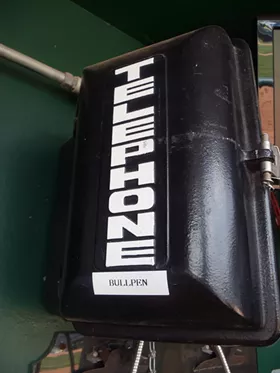 So apparently the bullpen phone is a problem. Because, you know, the Cards can't seem to get the right reliever up at kind of a big moment.
As far as problems go, though, the bullpen phone isn't even close to the biggest one the Cardinals had last night. The fact the bullpen shenanigans of not having the right guy up due to not being familiar with the newfangled phones in the dugout which have neither crank nor operator and thus being forced to allow Marc Rzepczynski to face one of the best right-handed hitters in baseball is the story this morning should really only prove to you how clueless most sports coverage is.
In fact, the bullpen mistakes at the end of the game aren't even the worst decisions Tony La Russa made last night. Bunting time and time again, killing off rallies by giving away extra outs, had much more to do with the loss than an inability to reach Klondike 5-634.
When it comes to bunting in general, I fall squarely on the
Earl Weaver
side of things. (Weaver a St. Louisan by birth, by the way.) Weaver, himself known as an ardent opponent of sacrificing, once famously said, "On offense, your most precious possessions are your 27 outs."
Outs are literally the only limited quantity in the game of baseball. There's no time clock, no limit to how long you can keep hitting, nothing. Just outs. So why do managers continue to insist on giving away their only limited quantity by putting down sacrifices time and time again?
It was especially odious last night, when C.J. Wilson was struggling mightily to throw strikes. You have a pitcher out there who, if you'll just stand there and let him, will probably put more hitters on. Instead, you do him a favour by giving him an out he probably couldn't get on his own, all because it supposedly makes scoring more likely. Bunting reduces run expectancy. It does not increase your chances of scoring. Giving away outs is just a bad idea, and the fact major league managers do it as a matter of course is just baffling to me.
Even so, the narrative of Tony La Russa costing the Cardinals that game last night is a false one. Look, I'll generally take any excuse I can find for jumping on La Russa, but in this case he wasn't even in the top five of things that went wrong.
Things which are of biggern concern for the Cards than the bullpen phone thing:
Allen Craig cannot hit a breaking ball from a lefty, apparently. He's been basically useless at the plate since hitting a homer in the first inning of game three. I did not see this coming, and was counting on Craig to make a positive impact for the Cardinals offensively.
Albert Pujols doesn't have a hit in the series outside of his one historic game. Don't get me wrong; it was a brilliant performance, and he hasn't seen a whole lot of good pitches, but that doesn't change the fact he isn't producing. He got himself out three times in game four, then swung and missed at a pitch close to a foot outside last night to start the strike out/throw out double play. He takes that pitch, Allen Craig doesn't get thrown out, and the Cards have bases loaded with no outs after Holliday takes his walk. When Albert lost the ability to just take a walk and not try to be the hero every time up I don't know, but I'm tired of watching it.
Speaking of Matt Holliday, he's been awful in the World Series. He may have taken the two biggest at-bats of the game last night, and both times hit weak grounders to the left side of the infield. Pathetic.
Jon Jay has been bad enough Skip Schumaker was actually an upgrade last night. Pathetic times two.
Rafael Furcal apparently forgot you're not required to swing at every pitch in the big leagues. You can totally save those swings and use them later in the plate appearance if you like, Raffy.
Oh, and one last thing: why in the hell is Allen Craig running? Twice he was run into outs at second base last night, and neither one was him deciding on his own to try and steal. You know how I know that? Because players don't take it upon themselves to steal without the green light on Tony La Russa teams. Either by miscommunication or just a stupid call, Craig was sent both times he was thrown out. Two more outs just given to the opposition, to go along with all those useless sacrifice bunts.
So sure, the narrative is going to be all about the bullpen phone, and the fact the Cards didn't have the right reliever ready to come in and face Mike Napoli. But it's a false narrative. This team's problem isn't that they were forced to let Marc Rzepczynski try to get Napoli out. The problem is that the Rangers walked nine Cardinals and committed two errors, to go along with the seven hits the Cards managed, and somehow those eighteen baserunners turned into just two goddamned runs thanks to manager and hitters alike just giving away outs.
That's the narrative we should be talking about.