Update 11:45 a.m.
Police have identified the suspect who killed himself early this morning as 34-year-old Robert Fuller. Fuller and Goertzen were in a relationship, according to police.
Update 9:40 a.m.
The suspect in Goertzen's death, a 34-year-old man,
reportedly killed himself
around 2 a.m. today in Peoria-area hotel after police moved in to question him. More information as it develops.
St. Louis police and other law enforcement agencies are investigating the discovery yesterday of a 29-year-old woman found dead yesterday in the Holiday Inn (below) at Hampton and Interstate 44 in St. Louis.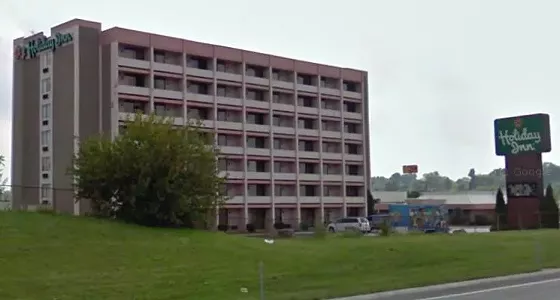 A member of the hotel's cleaning staff drew back a shower curtain around 8:15 a.m. Thursday to find Jenifer Goertzen, of Peoria, dead in a bathtub. Police say that Goertzen's wrists, ankles and neck were bound and she had bruising on her face.
Police haven't yet ruled the death a murder, though homicide detectives are leading the investigation. An autopsy is scheduled for today.