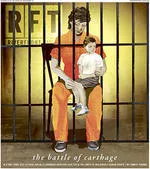 The transcript linked below depicts a conversation recorded September 19, 2007, by officials at the St. Clair County Jail in Osceola, Missouri, which is referenced in this week's feature story, The Battle of Carthage.
The two participants are Encarnación Bail (EB), who was incarcerated pending a trial on federal immigration charges, and Laura Davenport (LD), a bilingual child-development worker in the Carthage school district's Parents as Teachers program.
Davenport had received a supervisor's approval to make the 90-mile trip to drop off a birth certificate application for Bail, so that Bail's son Carlos could be made eligible for government-subsidized immunizations and infant formula.
But as the transcript shows, Davenport did not mention the application at any time during her hour-long visit with Bail. Instead she focused almost exclusively on trying to persuade Bail to give up her baby for adoption.
A year after the jailhouse visit, over Bail's objections, a Carthage court approved a local couple's petition to adopt Carlos. The decision was based on a judge's ruling that Bail had abandoned her son while in jail.
After serving a prison term, Bail was freed and granted a stay of deportation while her challenge of the adoption made its way through the courts. In January 2011, the Missouri Supreme Court nullified the adoption and sent the case back to circuit court, where the matter is scheduled to start again with a clean slate on December 6.
Though Bail is once again Carlos' mother in the eyes of the law, the Supreme Court ordered that the adoptive parents would retain physical custody of the boy, at least until a judge rules on the adoption do-over.
Carlos celebrated his fifth birthday earlier this week. Bail has not seen him since her arrest in May 2007.
Her attorneys intend to use the transcript of the jailhouse visit to support their claim that Bail did not abandon her baby following her arrest.
Note: The original conversation took place in Spanish. The conversation was translated into English by Gerald R. Edwards, Ed.D, whose affidavit is attached at the end of the transcript. In addition, during the visit Davenport addresses Encarnación Bail as Angelica Alvarado, an alias Bail had used that is referenced in federal court documents. Finally, the family Davenport describes in the transcript -- "He is from Mexico, but he looks like a Guatemalan. The wife is American" -- is not the couple that ultimately adopted Carlos.