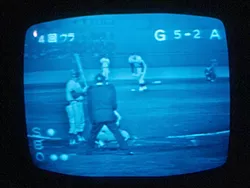 Black nor white: Cardinals in the World Series doesn't necessarily mean poor TV ratings.
You hear it each time the Cardinals enter the World Series.
"Oh, the television execs must be dying! A mid-market team in the series? Ratings will be horrendous!"
Yes and no. That dire prediction proved to be the case in 2006 when the Cardinals took on the Detroit Tigers. That contest was the
least-watched World Series in modern history
, earning an average of 15.8 million viewers and a Nielsen rating of 10.1.
But the Cardinals in the World Series doesn't necessarily mean a dud for Fox Television, either. In 2004, the Cardinals took on the Red Sox. That series benefited from Boston being a "large-market franchise" and -- more importantly -- the Red Sox storyline.
Would 2004 be the first time since 1918 that the Sox would win the series? Sadly, for Cardinals fans, the answer was an emphatic "yes" with Boston sweeping St. Louis in four games. Still, the series was a boon for Fox with an
average of 25.3 million viewers
each night and a Nielsen rating of 15.8.
This year, Fox executives have the fifth-biggest TV market (Dallas) participating in the series and somewhat compelling story lines in the come-from-behind Cardinals and the Texas Rangers searching for their first World Series title ever after losing last year's contest to the San Francisco Giants. (Nelson Cruz, the Rangers outfielder who set a MLB record for home runs [six] in the conference championship, is also generating a good buzz.)
But as
Variety
reports today, the best scenario for Fox would be for the series to go seven games.
"Some years are better than others -- the more games you get, the better you'll be -- but it is still a major, major ratings attraction," Fox Sports Media Group vice chairman Ed Goren says of the World Series.
It's hard to believe that it's been nine years since the last seven-game series, when the Anaheim Angels defeated the San Francisco Giants. Viewership for that final game jumped from around 19 million in Game 6 to over 30 million viewers for Game 7.
In 1985 and 1987 the Cardinals lost in Game 7 of the World Series. Those games -- back before 500 channels of satellite and cable TV -- drew Nielsen ratings of over 30 and
around 50 million viewers each
.