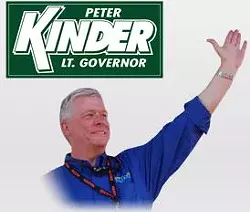 Update 12:22 p.m.
The Missouri Democratic Party reports that Jay Nixon's campaign raised $1.5 million in the third quarter to bring its cash on hand total to $4.2 million.
Original post follows...
The "Friends of Peter Kinder" political campaign filed its third quarter fund-raising report over the weekend, and it doesn't look good for the Republican looking to unseat incumbent Governor Jay Nixon in November of 2012.
Kinder's campaign took in $410,350 in the months of July, August and September. In the same time period the campaign spent $516,591 for a total loss of $106,241 over the quarter. Kinder's campaign currently has $1.5 million of cash on hand. Nixon had twice that much -- nearly $3.2 million -- at the start of the quarter. (Nixon's campaign has yet to filed its third-quarter report with the Missouri Ethic's Commision; however,
individual filings
suggest that Nixon added
hundreds of thousands of dollars
to his coffers over the past three months.)
Kinder's campaign took a hit in August when
Riverfront Times
revealed a curious relationship between Missouri's lieutenant governor and a
former stripper and Penthouse Pet
named Tammy Chapman. Some Republicans have since
called on Kinder to abandon the race
for governor. He's yet to officially announce his candidacy.
Still, Kinder has had some fund-raising success lately. In early September, Karl Rove helped raise $160,000 for Kinder at supper in Cape Girardeau. Late last month,
Kinder received $25,000
from St. Louis entrepreneur and philanthropist Sam Fox; $5,000 from William "Bucky" Bush; and $50,000 from a St. Charles outfit called the Lewis & Clark Regional Leadership Fund.
H/T: Fired Up! Missouri