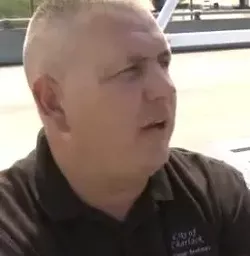 Jim Beekman resigned office and moved out of Charlack last Friday.
Jim Beekman, the mayor of Charlack, resigned his office Friday without warning.
Tony Umbertino, the city administrator and police chief for the north St. Louis County suburb, tells Daily
RFT
that the Beekman also moved out of his Charlack home on Friday. Umbertino says he's not sure where Beekman currently resides (he's heard St. Charles, as has Daily
RFT
) nor is he sure
exactly
why Beekman stepped down from office.
Last month
KTVI reported
that the Missouri Highway Patrol had launched a criminal investigation of Beekman for reasons the patrol wouldn't discuss. Last year Beekman and Charlack garnered
criticism from the St. Louis County Police Department
and
MoDOT
for its decision to deploy speed cameras along Interstate 170.
Umbertino says that Beekman had been mayor for about ten years and left a letter with the city outlining a number of reasons why he was resigning. Umbertino said that letter -- which will be made public at next month's Board of Aldermen -- specifically stated that Beekman was not leaving as a result of the Highway Patrol investigation.
Beekman still has possession of a city cell phone which he did not answer when Daily
RFT
rang this afternoon. Andre Morice, president of the Board of Aldermen, will serve as interim mayor in Beekman's absence. Charlack has around 1,300 residents according to the 2010 Census.