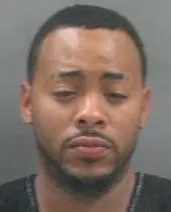 Byrd Sr: Convicted of killing his girlfriend and toddler.
Eighteen months after police pulled his girlfriend's
corpse from the Mississippi River
, Gebar Byrd Sr. was convicted Friday of murdering Yasmin Rodriguez.
Authorities have never discovered the body of Byrd's son. In absence of a body, Byrd Sr. was charged with involuntary manslaughter, child endangerment and domestic assault in the presumed death of the toddler.
It took authorities more than a month to build their case before charging Byrd with the death of his girlfriend and child. Prosecutors alleged that the couple got into a heated argument in their University City home just prior to Rodriguez's and the child's mysterious disappearance in March of last year. Police later came to the conclusion that Byrd Sr. took them to a park in north St. Louis along the riverfront.
Yasmin Rodriguez and Gebar Byrd Jr.
According to the criminal complaint: "Rodriguez was holding Byrd Jr. in her arms. Byrd Sr. pushed Rodriguez -- who was still holding their son -- into the river through mud, branches and logs. Eventually, neither she nor the baby resurfaced."
Sentencing is scheduled for December.
How do you think Byrd Sr. should be penalized?