The day after the rally squirrel made its first appearance, Rick Nadeau's co-workers asked him if he'd sneaked the squirrel into Busch Stadium in a burlap sack and released it onto the field. But no, Nadeau was not responsible.
"All mine are in the freezer," explains the Marine, Illinois, taxidermist and proprietor of Rick's Custom Squirrels. But that doesn't mean he can't stuff them into replicas of the Cardinals' furry new hero.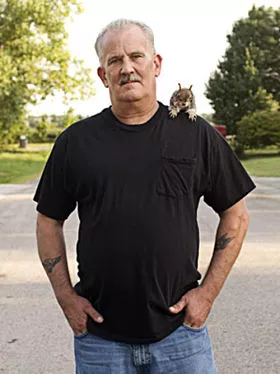 Jennifer Silverberg
Nadeau and one of his little buddies.
Loyal readers may recall that Riverfront Times profiled Nadeau in the 2009 feature "Mount My Squirrel!" Although Nadeau stuffs other creatures, he specializes in squirrels for two reasons:
1) There are lots of live models in his yard. (Nadeau calls them his "little buddies.")
2) Squirrels have thin skins that are easy for his arthritic fingers to sew together.
Nadeau just shipped his first rally squirrels this week. "I've sold quite a few, actually," he says. "This is usually my busy time anyway, all the way up till the week before Christmas."
With the Cardinals one game from the National League title and the original rally squirrel seeking out legal representation, Nadeau could be busy for quite a bit longer. But he's already got a post-baseball project in mind. "I'm going to make mascot mounts for the Urban Chestnut on Washington Avenue," he says. "They're going to be dressed up in little German outfits and holding beer steins."
We can't wait.