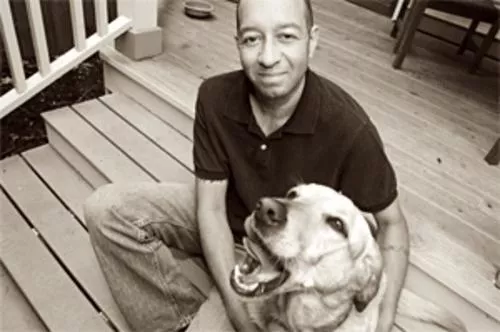 Jennifer Silverberg
Carl Phillips and Andy.
Maybe the fourth time's the charm.
The National Book Award nominees were announced today and St. Louis's own Carl Phillips is on the shortlist for poetry for his eleventh and latest collection, Double Shadow, which came out last March. (Phillips has also published a book of essays and a translation of the Greek tragedy Philoctetes.) At the time, St. Louis Magazine wrote that "poems like 'The Heat of the Sun' and 'Master and Slave' beg to be memorized and used as an instruction manual for living.
Double Shadow fully embodies the tension between unwillingness and inability, resignation and despair. It manages to wring hope out of pain and torture in a way that makes you wonder how anyone who hasn't had their heart broken can ever be sincere.
Phillips, a professor at Washington University, has already thrice been nominated for the National Book Award, most recently in 2009, but has never won. No doubt he consoles himself with the knowledge that he has been chosen Best Local Poet by Riverfront Times four times and that he was the subject of a terrific 2006 profile by former staff writer Malcolm Gay. Oh, and all the other awards he's won.
Daily RFT has a call in to Phillips to find out his thoughts and comments on this latest nomination.
------
Update, October 13: Phillips tells Daily RFT that when he got the news, he was finishing up a new poem. "I thought, that's the important thing," he says.
And even though he's been here before, he says he was "surprised -- as I have been in the past, and grateful that people seem to find my book worthy. It's a very strong list of people, some of whom I've been reading all my life. I'm very happy to be in their company."
Phillips didn't really get much of a chance to celebrate: This morning he had a dentist appointment, which concluded with the news that he needs a new crown and will have to return for a follow-up visit. And so life goes on.