The rally towels were out in force last night.
Unlike Chris Carpenter's last start, when he carried the Cardinals in a 1-0 shutout over the Phillies to advance to the NLCS, the clubhouse ace would require a team effort last night. He got it in a big first inning of production from Redbird batters and in some great defense and bullpen pitching. Here, then, are the five biggest factors in last night's game as we saw them.
1.
Milwuakee's base-running blunder:
Top of the first and Carpenter is in a bit of trouble with one out and runners on first and second with the dangerous Prince Fielder at the plate. Fielder smacks a scorching line drive to center field. Jon Jay makes the catch and fires a rifle to second base where Mark Kotsay is caught off base to end the Brewers at-bat.
2.
Helluva offensive start:
Who'd of thought that the Cardinals would get all the runs they need -- and all the runs they'd get the entire night -- in the first inning? But that proved to be the case with two walks, a wild pitch and RBI doubles from Jon Jay, Albert Pujols and David Freese. Cardinals led 4-0 after the first and wouldn't trail the entire game.
3.
Carp comes through in the clutch:
Top of the fifth and Milwaukee has pulled within one run: 4 to 3. Carpenter doesn't have his best stuff tonight, but Tony La Russa is still willing to gamble that his ace has what it takes. With two outs and a man on first, the Cardinals skipper has Carp give Prince Fielder an intentional pass to get to infielder Rickie Weeks. One mistake and the game is tied -- or worse. Carp strikes out Weeks and walks off the mound with a signature fist pump and shout.
4.
Pitching by numbers:
Fernando Salas replaces Carpenter in the sixth and the righty retires Milwaukee 1-2-3. Lancy Lynn enters in the seventh and ditto that 1-2-3 all with fly balls to the outfield. Then, in the eighth inning, La Russa burns up the phone lines to the dugout. Lynn gets Ryan Braun to ground-out to short. Marc Rzepczynski enters to face Fielder and strikes him out. Jason Mottte then enters the game to mow down Rickie Weeks with a strikeout to end the top-half of the inning.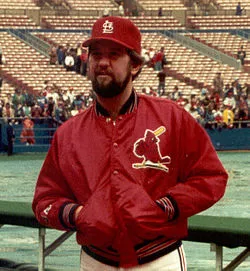 Bruce Sutter: You can't tell us that Motte doesn't resemble this guy in more ways than one.
5.
Jason Motte:
Has this man found his mojo or what!? After striking out Lucroy to end Milwaukee's eighth, Motte gets Jerry Hairston Jr. to ground out to short. He then fans Betancourt and Lucroy to end the game. Cardinals win 4-3.
Other notes:
A.
New mascot:
The Cardinals have fully embraced the rally squirrel phenomenon. On Wednesday night the team debuted a new mascot, "Rally Squirrel." The costumed mascot stands about a foot or two shorter than Fredbird.
B.
Deja vu all over again:
The Cardinals fourth and sixth inning at-bats ended in the exact same fashion with two men on, two outs and Matt Holliday at the plate after Brewers' pitchers intentionally walk Pujols. On both occasions Holliday whiffs to end the inning. One base hit from Holliday (0-3 with a walk) and this game would've been less of a nail-biter. Then again, nail-biters make for exciting contests.