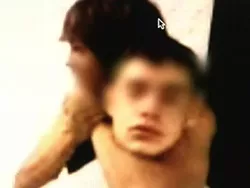 Kids may be intentionally choking themselves to death! That news flash courtesy of a Parkway North middle school assistant principal who
tells KMOX
that one of his teachers overheard students recently discussing the "choking game."
Unlike that other favorite game of St. Louis teens and tweens,
Knockout King
, the goal of the choking game is to knock yourself unconscious. The result is a quick high as blood re-enters your brain.
But the choking game can also be deadly. A
PSA on YouTube
suggests that a thousand kids a year in the U.S. die from playing forms of the choking game.* Other reports have that figure much, much lower with
fewer than 100 total deaths
since 1985.
So how do you know if your child is participating in this dangerous pastime?
"If there are lots of locked doors in the home, if when you walk in to your child's room they seem disoriented, if their eyes are bloodshot, if there is any strange bruising or marks on the neck," says Parkway principal Bill Senti. "Those are things that parents might be able to look for in the home."
* The actual number of children who die from playing the choking game (a.k.a. pass-out game) is difficult to determine as some deaths may be legitimate suicides.