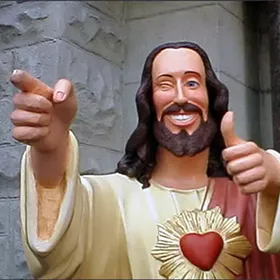 Statue of Lance Lynn currently being proposed for addition to the collection outside Busch Stadium.
It's probably going to be overlooked, considering the final score of the game last night, but I think
Lance Lynn
may very well have saved the
Cards
' collective bacon. He entered the game with the score 7-2 in the fifth inning, with the bases loaded and only one out.
Arthur Rhodes
had just walked
Prince Fielder
, and the always-dangerous
Rickie Weeks
(who had already homered once in the game), was coming to the plate.
Lynn threw one pitch, and Weeks grounded into an inning-ending double play. Just like that, the Cards were out of the biggest jam they faced all night, and the collective exhale of St. Louisans' breaths could be felt all the way in Milwaukee. (On further review, Weeks looked as if he may have been safe, but I'm not complaining about the umpire assist.) If Lynn doesn't do his job containing the damage there, the game could very easily have gotten uncomfortably close in a hurry, and there's no telling how things might have played out from there. As it was, though, the Brewers missed their best chance, and the Cards' offense did their job in a big way.
Really, it's only fair the Cardinal offense should be the focus after last night's beatdown, because they deserve plenty of attention.
Shaun Marcum
has struggled badly of late, but this is still a pitcher who has put up very solid numbers the last two seasons, one of which came in the pitcher's nightmare known as the AL East. Any time you can beat up on Shaun Marcum you know you've done your job as an offense.
Just as importantly, the Cards didn't let up on the gas once Marcum was out of the game. Rather than letting the score stay where it was and possibly allow the Brewers to creep back into it, they extended and piled on against the soft underbelly of a very good Milwaukee bullpen.
It's kind of funny, but I very nearly wrote a short piece yesterday afternoon about Albert Pujols needing to step it up in the playoffs. Instead, I got busy and the piece didn't get written, sparing me yet another indignity thanks to having the worst timing on earth.
Beyond just Albert, though, it was extremely encouraging to see Matt Holliday and Lance Berkman both taking better at-bats last night. Neither of those two have really hit well to this point in the postseason outside of Berkman's homer in game one of the LDS. Holliday is coming back from injury, so timing has seemed to be an issue, but he looks to be rounding back into form. The Cards have survived up to this point without getting much of a contribution from the middle of their lineup; to get either one or both of Berkman/Holliday performing up to their standards could very well be the decisive blow in the series.
Jon Jay has been outstanding all postseason. In fact, both he and Rafael Furcal have stepped up in a big way (though Furcal did have a rough game last night), mitigating the struggles of the sluggers somewhat. I'm still not sold on Jay as a long-term starter, but he's been money for the Cards so far in October.
Even by Albert Pujols standards Albert's night was historic. David Schoenfield has a nice writeup of how Pujols' numbers last night stack up historically. While you're there, check out the comments for some really dumb conversation about Albert's destination after this season and the abject cheapness of the Cardinals. The Cliffs Notes version: "Holy crap, did you see that? That just shows why the Cards should give him that 10 year 300 million dollar deal!" I don't often recommend dumb conversation on purpose, but this is pretty good.
It wasn't exactly a must-win for the Cardinals, but it was pretty close. A 2-0 hole is tough to climb out of, particular when the opponent has two more games in their ballpark and the type of home field advantage the Brewers enjoy. As it stands now, though, the Cards have seized a pretty sizable advantage in the series themselves. From here on it's just a five-game series and the Birds have home field. Pretty nice work if I do say so myself.
What will be interesting to see is whether or not the Brewers would go to Marcum again if the series goes that far. Marcum posted a 5.17 ERA in September, and has been even worse than that in the postseason so far. He would be scheduled to pitch again in a potential game six, and I honestly have a hard time the Brewers would be comfortable putting him back out on the mound to start a game that could very well decide their fate.
Regardless, we saw the best of what the Cardinals can do last night; their lineup looked fully like the AL East style offense we've seen at times throughout the year. If the Redbird offense hits the way they did last night -- or even provides just a reasonable facsimile thereof -- I have a feeling it won't really matter all that much who or what Milwaukee throws at them.