​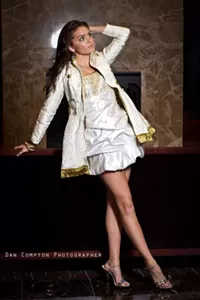 Tuesday, October 11, is the start of 2011's St. Louis Fashion Week. For the seventh year, Brown Shoe will be presenting Project:Design!, a competition featuring the work of six designers based out of, or near, St. Louis.
The lines of the top six designers, chosen online by the public, will be featured in a fashion show October 11 at Fashion Week. Judges will then choose a winner, who will receive prizes including a consultation with 963Collective and coverage in ALIVE Magazine. Daily RFT is highlighting one finalist each day until October 11, showcasing the best talent this area has to offer.
Caroline Williard, 27, heads Caroline Williard Couture. Williard is originally from Fort Lauderdale, but now permanently lives in St. Louis after a stint in Kansas City.
What is the style of your line? This line focuses on elegance and eccentricity as well as texture -- clothing that is beautiful and radiates a woman's beautiful soul that is within.
When did you get into fashion? I have always wanted to be a fashion designer. I started designing clothes for myself and my dolls at the age of five.
My mother comes from a long line of seamstresses and taught me how to sew. I kept doing it as a hobby as I continued to get older, and in recent years invested in designer college books and progressively kept learning how to design fashion. It is my choice of art and my passion.
What is going through your head when developing new designs? From how I see it, fashion and what you wear is based off of needs. You need to wear clothing out in society, but how do we choose what we decide to wear on any given day? That is based off an emotional need. When I develop a design, I reach out in my imagination and, based off what I am feeling and imagining, I am able to create a design for a certain mood.
What inspires you when designing? Anything and everything from books and magazines to art and people on the street. My inspiration comes from what affects my thinking and, in turn, I feel like I need an outlet to express my views and how I am feeling, and use clothing as my canvas.
How did you feel when you were chosen as one of the top six designers for 'Project:Design!'? I felt very honored and felt like it was a sign.
I was in graduate school all last year for a different degree and it wasn't making me happy. I wasn't sure it was the direction I wanted to go in, whereas with fashion design, I had doors opening left and right. I was meeting incredible people in the industry, which led me to keep pursuing it so hard and firmly establish CWC. So when I was voted in as one of the top six, it was like a sign that this is what I need to be doing, that people like my designs and that I can give back to my community and have the chance to truly make it as a local designer.
Where do you want to go with your career? I want to make it to the highest point that is possible with fashion design. I want to reach the masses as well as change aspects of fashion as we know it.