Callie Appelstein
Sarah Palin
Can you feel it? Discontent has been in the air this week. The news has been full of #OccupyWallStreet and its various regional sympathy protests.
On the face of it, it's hard to think of something more diametrically opposed to the Occupy movement than "Defending The Republic," a rally/appearance featuring Glenn Beck and Sarah Palin. Set up camp on Wall Street and proclaim your opposition to bankers and generic fat cats, and you get mass-media approval, much social-networking love, visits from Susan Sarandon, and a free concert from Jeff Mangum, the beloved, seldom-seen Neutral Milk Hotel bandleader. Go to anything remotely Tea Party-oriented, and you're just asking to be smeared as an idiot, a moron, a tool of the Koch brothers, and probably racist.
But are these two camps so far apart in their concerns? Both think that student loans are out of control. Both would like to see better use of tax dollars. Both are seeing a lot of pain financially. Both agree that we're in scary, unpredictable times, with problems that seem beyond our grasp. Perhaps the main difference is in the proposed solutions. Where at least some of the OWS movement would endorse a platform including "free college education" and $2 trillion pulled from somewhere for infrastructure and green energy, the conservatives are more likely to endorse a message of personal responsibility inspired by Biblical scriptures, but rooted in the Founding Fathers and the idea of the United States as a shining city on a hill.
I don't go to a lot of political events. My views are a mass of contradictions, and I've been cynical about partisan rallies ever since going to a few too many in college. But I was interested in hearing Beck and Palin speak for two reasons: 1) My wife, a proud conservative, really wanted to go, and 2) The older I get, the more interested I am in hearing unfiltered viewpoints. The more vilified these two public figures became, the more interested I was in hearing for myself what they had to say. And that is how we found ourselves at the Family Arena on Friday night.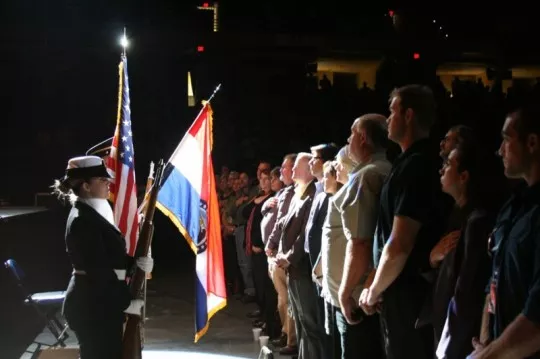 Callie Appelstein
The crowd at the Family Arena last night.
"Sweet Home Alabama" played over the loudspeaker as we found our seats. Eventually the lights went down, an Army corps marched through the center aisle carrying the flag, and everyone stood for the National Anthem. After a short film, 97.1 morning host Jamie Allman came out to the strains of "Don't Fence Me In." He warmed up the crowd with a few Solyndra jokes, gave a shout to Herman Cain (the Presidential candidate who consistently got the most cheers all night), and threw a few T-shirts into the audience.
Then 97.1 radio host and bigjournalism.com editor Dana Loesch came on. She made fun of the Occupy St. Louis protest, which she'd passed on her way to the Family Arena, and which had "about three people" (admittedly, we did not make any attempt to confirm this). She spoke about the Tea Party being compared to Nazis, "even though we had a message when we went out there, one of limited government and fiscal economy." This got huge cheers. She spoke of Sarah Palin as a role model, a kingmaker, and an "anti-feminist conservative icon." And without further adieu, the former Alaska governor and Vice Presidential candidate took the stage.
If Palin was feeling any sting from Joe McGinniss' recent tell-all and her decision not to seek the Republican nomination, it was not evident from her talk. She was upbeat, fairly eloquent and comfortable onstage, though she did visibly stumble over her words a few times and referred to Alaska's "diversion of topography." (But then again, President Obama was allowed to slide on his claim that he visited "57 states," so I think we should let this one go, too.)
For all the post-McCain hoopla, people tend to forget that Palin was a state governor, and a popular one at that, with experience and strong opinions about energy policy. Here she talked about developing ANWR, suggesting that Alaska could be "America's Fort Knox," the centerpiece of a secure union, if the region was opened to oil exploration. She spoke of Alaska's uniqueness, and recalled how her parents moved there in 1964 and instilled in her a self-reliant work ethic.
So why "Defending the Republic?" Palin spoke of the "permanent political class" that pervaded the Beltway on a bipartisan level. Yes, she criticized the OccupyWallStreet protestors as participating in "a nebulous, benign, weird protest," but she focused on a combination of government bailouts, union bosses (while going out of her way to praise union members, including her own family), and "crony capitalism" on both sides of the aisle. How to solve it? A return to original principles of self-government, free-market capitalism and the elimination of corporate income tax, enabling companies to fall or succeed on their own. As for the press, she had a message: Tell the truth. Only some reporters -- she mentioned Jake Tapper by name -- were challenging the official party line. She suggested that anything less than honesty is abusing freedom of the press, reminding us that "men and women die for" these freedoms every day.
After the official speech, Palin took audience questions moderated by Loesch and Allman. One question was how she withstood the relentless criticism in the media. "My faith is my rock," she said. "I'm perfectly willing to be a bullet magnet if it means other people can be left alone. I'm willing to do that."
It's easy to see why Palin connects with people; it's also easy to see why people make fun of her. But her speech made it clear that, for all of the "you betcha" folksiness, she is a serious person with ideas. (Whether you agree with those ideas is another matter altogether.)
After a 20-minute break, Allman came back on, gave a few thank-yous, and handed the mike to Dave Glover, another 97.1 host. He spoke of his friendship with Beck -- or, as he called him, "Glenn Friggin' $100 Million Beck."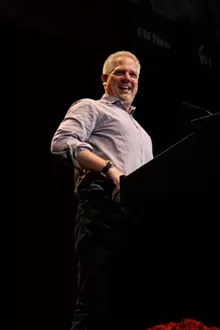 Callie Appelstein
Glenn Beck
While Palin spoke like a skilled politician, Beck came on with an almost evangelical fervor. He was part apocalyptic preacher, part topical comedian ("all I ever wanted was to be funny," he repeated at least twice"), part motivational speaker. Like or hate him, he knows how to hold an audience's attention and how to roll with unpredictable events. For instance, just as he was making a serious point about 1960s leftovers holding our children hostage, a spontaneous cheer rang out from the audience. As it happened, this was the exact moment the Cardinals won Game 5 of the National League Division Series. Beck laughed it off, which is really the only reasonable reaction in St. Louis other than yelling "Go Cards!"
Beck said that he was there to "issue a call" to the American people -- a call that the twelve months leading up to the Presidential election would be the most tumultuous since 1968. "I've seen their playbook," he said. "I know who they are." But he also warned that we should be praying for our leaders -- "and not just the ones on our side," he stressed. "We need to pray for the president's safety, too."
Due to the hard times present and future, he warned us not only to be careful who we stand with, but that must combat the turbulence with a renewed focus on being "good." Quoting both Benjamin Franklin and the Ten Commandments, he suggested that there are rights and responsibilities; and choices, and the consequences of those choices. And here was the choice before us now: whether America would be remembered as a) a group of free men, with options beyond their wildest dreams, but who ran into the chains of slavery, or b) a group of Americans who heard the Third Great Awakening. We could forestall option A, Beck suggested, by knowing what we stand for, not being afraid to say it, keeping a higher power in mind, and always acting "with malice toward none, with charity to all."
And that was that. For the record, the crowd was fairly ordinary, a little on the older side. If you're looking for a freak show, there simply isn't much to report. There were no counter-protesters outside, no confederate flag-waving bigots inside (at least not that I saw). One guy had on a T-shirt depicting the President as "Obamahood," complete with green tri-corner hat, but that's about as offensive as it got.