Could this be the pose immortalized in bronze?
When we heard that the
Pujols Family Foundation
was about to unveil a nine-foot bronze statue of Albert Pujols, our first question was: Is Albert wearing a Cardinals jersey?
"He is," says sculptor
Harry Weber
, who's been working on the piece since around the time Pujols ended contract-extension talks with the Cardinals this past spring. "To me [the Cardinals jersey] bodes well for St. Louis fans."
But don't read too much into that, cautions Todd Perry, director of the Pujols Family Foundation. Perry tells Daily
RFT
that the foundation has been kicking around the idea of a statue immortalizing Pujols as a Redbird for several years. An anonymous donor brought up the idea and is paying for the entire cost of the sculpture.
"The timing is what it is," says Perry. "We (the foundation) are completely out of the loop on Albert's contract negotiations, and there's no announcement tied to the unveiling of the statue that I know of. The donor simply wanted an appreciation of Albert for everything he's done over the past eleven years for St. Louis baseball and the community."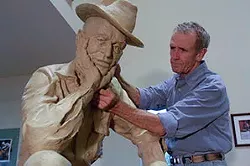 Weber working on a statue for the Jack Daniel's distillery.
Back in August the foundation scheduled the unveiling of the statue for next weekend (October 15-16), but that was when the Cardinals were ten games out of the wild-card race. If the Cardinals are still in the playoffs next weekend, the unveiling could be pushed back.
The statue will stand near Pujols' restaurant,
Pujols 5
, in
Westport Plaza
. Pujols' foundation is also located in Westport. Neither Perry nor Weber would comment on its cost. However, a similar Weber sculpture -- the
8-foot Chuck Berry statue
recently unveiled in the U. City Loop -- cost just north of $100,000.
Perry and Weber also declined to give any details on what the statue looks like, other than it's an action pose taken from photographs and stills. Pujols did not sit for the sculpting.
"He has seen it, though, and he's extremely appreciative and humbled," says Perry. "The statue looks great."
Perry says the anonymous donor also paid for 24-inch and 12-inch replicas of the statue that the foundation will sell, with all the proceeds going back to its charity work. The Pujols Family Foundation is a 501(c)(3) benefiting people with Down syndrome, disabilities and/or life threatening illnesses, and children and families living in impoverished conditions in the Dominican Republic.
Weber's other work in St. Louis includes statues of Ozzie Smith, Lou Brock and Dizzy Dean and others (
excluding
the big statue of Stan Musial) outside Busch Stadium as well as Lewis & Clark near the Eads Bridge and Tennessee Williams in the Central West End.