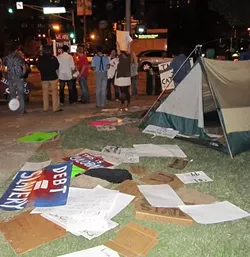 Photo: Chad Garrison
A scene from inside the Kiener Park occupation on Tuesday night.
St. Louis police reportedly arrested ten people last night associated with the
OccupySTL protest
that has been camped out in Kiener Plaza since Saturday.
According to OccupySTL's
facebook
and
blog
, around 70 uniformed officers swept into the downtown St. Louis park just before midnight Wednesday, arresting the protesters for violating the park's 10 p.m. curfew. Earlier in the day police issued about a
half-dozen citations
to protesters, warning them that they were in violation of the curfew.
This morning OccupySTL protesters have already reconvened inside Kiener Plaza, which is officially open to the public from 6 a.m to 10 p.m. As Daily
RFT
reported yesterday
, the group doesn't plan on leaving anytime soon.
Here, though, is what we don't understand about last night's arrests:
With all the other crime in St. Louis, do 70 police officers really need to waste their time arresting peaceful protesters? On the other hand, do the protesters really need to spend the night in the park to get their message across? (Asides from a Cardinals' night game, there ain't a lot of people downtown after 10 p.m. to even take note of the protest.) Then again, would getting a good night's sleep at home contradict an "occupation" of St. Louis?