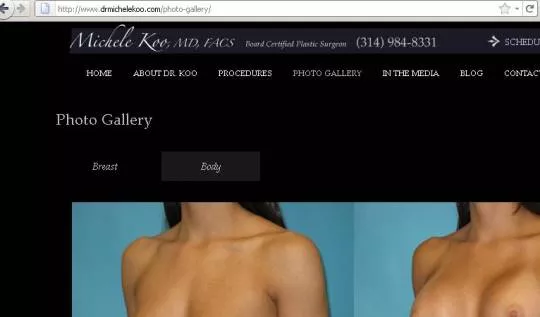 Neil Bruntrager says it took Dr. Michele Koo weeks to take down before-and-after pictures of his clients' naked torsos.

We got a chance to talk today to Neil Bruntrager, the St. Louis attorney representing five local women whose before-and-after-boob-job pictures were exposed online by their plastic surgeon -- complete with their first and last names.

Bruntrager revealed new details about the shocking incident. He also shared a timeline that sheds new light on the apology offered by Dr. Koo, which we published yesterday on this blog in an update to our original post. He calls into question her claims that she obtained her patients' permission to use the photos online -- as well as her assertion that she immediately removed the photos upon learning of the website mistake.

As Bruntrager explained, the case only came to light because the original Jane Doe was traveling for work and noticed that the IT guys in the office she was visiting were treating her oddly.

Doe just happens to have a very unusual name ("there aren't two people in the country with that name," Bruntrager says). It took a kindly coworker to explain what was up.

"Have you ever run your name in Google Images?" the colleague asked. When Doe plugged her name into the search engine, she was horrified by what she found -- full frontal torso shots from before and after from her boob job, posted on her plastic surgeon's website and other promotional sites. In some cases, the posts included such personal details as her age and the city she lived in.

On April 28, Doe visited Bruntrager, asking for help to get the photos removed. He fired off a cease-and-desist letter demanding the photos be taken down within 24 hours.

Initially, he says, the response was good: "They said, 'We're going to do everything we can take them down.'" But, seven days later, he says, only her name had been removed -- not the images.

Those images were still online nearly a month later, on May 23, Bruntrager says. And Bruntrager says he was able to learn with a bit of googling that only the first Doe's name had been removed from the website -- despite Dr. Koo's promise to deal with the problem, 29 other women out there still had first and last names attached to their images.
Bruntrager began reaching out to the women, looking for witnesses to back up Doe's contention that she never granted permission for the photos to be posted online. He found that the 29 women had no idea their pictures were out there, he says, much less their names. He quickly gained six new clients.

It wasn't until after June 14 that the other names were removed from the website. And today, Bruntrager says, the images themselves are still online on various promotional sites. (We're not linking to pictures of any specific Jane Does in order to refrain from further violating anyone's privacy.)

"To a person, these women are absolutely mortified, upset and angry," Bruntrager says. "Do I think she intentionally put these up? Of course not. But on April 28, she knew these things were up there. And they're still up there today."

In her statement yesterday, Koo blamed a "data processing" problem. She also said that when she learned of the problem, she "personally advised the small number of patients what had happened. I asked my web host immediately to remove the images. We also took steps to assure that this kind of data breach cannot be repeated."

Bruntrager says that at least two of the women never even received Koo's letter apologizing. He adds that no one has received any offer of remuneration.

Since Daily RFT broke this story Tuesday, Bruntrager has received inquiries from ABC News in New York City and the Today show. While he's been cooperative, he says none of his clients are willing to go on TV, pointing out that they filed suit under pseudonyms. "The last thing they wanted was to have to file suit," he says.