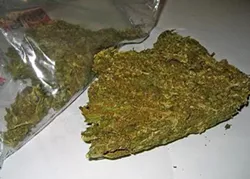 Illinois State Police have seized 743 pounds of cannabis valued in excess of $3.4 million during two traffic stops along Interstate 70 in metro East St. Louis within the past 30 days.
On August 29, District 11 troopers stopped a silver Ford pickup on I-70 near Troy and located 633 pounds of cannabis. Weeks later, on September 24, troopers stopped a gray Chevrolet SUV on I-70 near Marine and discovered 110 pounds of marijuana hidden inside the vehicle. Both towns lie about 20 miles northeast of downtown St. Louis near the junction of I-70 and I-55.
In the August arrest, troopers pulled over the Ford pickup truck for improper lane usage and improper display of a license plate. During the traffic stop, the trooper observed suspicious behavior from the driver. As a precaution, a police K-9 arrived on scene and positively alerted the presence of an illegal substance. Police then uncovered 12 black duffel bags in the bed of the truck containing the marijuana an arrested the driver, Tomlin Coleman, 41, of Lehigh Acres, Florida. He's now free on a $25,000 bond.
Last Saturday, police pulled over the Chevrolet SUV for having and obstructed windshield. The female driver and male passenger both exhibited signs of suspicious behavior, prompting a search of the vehicle that found two duffel bags containing 110 pounds of cannabis.The driver, Keeta Buchanan, 41, and James Quinn, 68, both of Middleton, Ohio, were arrested and are still being held in Madison County Jail.