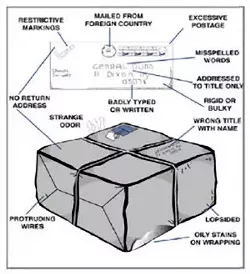 A bomb scare inside a mosque north of Centralia, Illinois, yesterday is now being investigated as a hate crime.
Central Illinois'
WJBD radio reports
that a church member found a box in the bushes outside the center and brought it inside thinking it was a donation for the food bank. Soon other church members grew suspicious of the package and called authorities who, in turn, called in the bomb squad.
Some 25 nearby residents were evacuated from the scene as the bomb squad used a water cannon to blast open the package. It's contents?
Burned Qurans
, anti-Islamic propaganda and newspaper clippings.