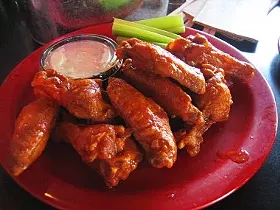 Hey, I totally understand if this is the only thing you know about the town of Buffalo. But there just might be a quarterback with a Rams connection worth paying attention to up there.
I can't imagine too many
Rams
fans pay a whole lot of attention to the
Buffalo Bills
. Buffalo is far away, the Bills don't even play in the same conference as the Rams, and the Bills have been moderately awful for the past few years. I could be wrong, but Rams fans have their own terrible team to worry about. Well, unless they happen to have a couple Buffalo players on their fantasy team, that is, in which case they're probably only paying attention to one or two players at a time. They did just beat the
Patriots
, which is oh so sweet to me (and plenty of others, I would imagine), but I'm still not sure that's enough to really put the Bills on St. Louis' radar.
So I'm not sure how many people have noticed what Ryan Fitzpatrick is doing up there in Buffalo, but someone really should be paying attention. It looks like he just might be the quarterback Mike Martz said he was going to be all those years ago.
Fitzpatrick, you might recall, was originally drafted out of
Harvard
by the St. Louis Rams, way back in 2005, when Mike Martz was still the head coach. Very much the proverbial developmental quarterback pick, Fitzpatrick drew rave reviews from Martz for his intelligence and a big arm the likes of which Rams fans hadn't seen since
Kurt Warner's
first year in town. He also had a bit of scramble in him, a far cry from
Marc Bulger's
hold-it-'til-they-hit-you method of quarterbacking. (Of course, in Bulger's defense, I'm pretty sure he was already suffering from Post Traumatic Stress Disorder from the beatings he took in the mid-2000s.) Still, he was a third-string quarterback on a terrible team. No one cared much about Ryan Fitzpatrick.
Well, until everything went to hell in '05, that is, and Fitzpatrick found himself starting an NFL game. Everyone was still ambivalent -- or just plain indifferent -- toward the Rams, but the novelty of a quarterback from Harvard was enough to grab people's attention. It only got more intriguing when he beat the Houston Texans in his first NFL start, a 33-27 overtime affair, and compiled a 117 QB rating in the process.
Unfortunately, the bottom dropped out then, as the lousiness of the team and the rookieness of the quarterback combined to send Fitzpatrick to three straight losses. He wouldn't get another chance until 2008 with the Bengals, filling in for Carson Palmer for 13 games.
This is his third season in Buffalo, and so far he's lighting the world on fire. A completion percentage of almost 65 percent, a passer rating of 103.5, a 9:3 touchdown to interception ratio. The Bills are the surprise of the NFL right now on the good side at 3-0, and Ryan Fitzpatrick's play has had everything to do with it.
Whether he's an elite quarterback is tough to say. After all, Buffalo runs an explosive offensive system with talented receivers, so it's possible he looks better than he is thanks to the talent around him. Then again, maybe the system and the receivers look better because of the quarterback. Time will tell, I suppose.
Fitzpatrick was being discussed on ESPN Radio last night, and the host was asking the question of whether or not the NFL has changed so much now that virtually anyone can be an elite quarterback, essentially discounting Ryan Fitzpatrick entirely. I actually considered calling in, only because I happen to remember when Fitzpatrick was a rookie and Mad Mike was telling us all how talented this kid was.
Maybe Ryan Fitzpatrick really is just a guy, and he'll fall right back down to earth here in the next few weeks, and we'll all laugh at ourselves for getting overly excited about some dude who had three good games. Or, maybe he's going to prove that, whatever else you might say about Mike Martz and the insane things he did to start the St. Louis Rams down the path of disaster, when it comes to doing the thing he's best at -- finding a quarterback -- you should listen to what he says.