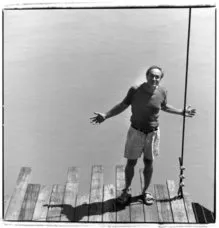 Photo by Jennifer Silverberg
Bob Cassilly at Cementland in 2000.
Update 4 p.m.
Rose Psara, chief investigator with the St. Louis Medical, tells Daily
RFT
that the bulldozer was found upright on the side of an incline. Initial reports indicate damage to the roof of the bulldozer that could suggest it rolled over before landing right-side-up. A medical autopsy is pending.
UPDATE 2:45 p.m.
A source close to the family tells Daily
RFT
that Cassilly died from a "bulldozer accident" at Cementland in which the vehicle apparently overturned. One of Cassilly's employees found him around 8 a.m. after Cassilly failed to show up for a scheduled appointment. It's unclear when exactly Cassilly died, though it's believed he passed "instantaneously and painlessly."
Cassilly could often be found working on Cementland when the weather was favorable. The industrial site along the north St. Louis riverfront is years from completion, but already featured a castle, tunnels and airplane fuselages.
For more on Cementland,
see our photo tribute here
. Also see our
report from the scene at the City Museum
this afternoon.
UPDATE 12 p.m. Police just confirmed that the person killed at Cementland this morning was owner Bob Cassilly, 61. Mayor Francis Slay also tweeted the news at 11:53 a.m.

Original story follows...

St. Louis police report that a man identified only as a "white male" male died this morning in north St. Louis. Television news stations report that the victim was found dead in a bulldozer he was operating.

Cassilly, founder of the City Museum, has been working on Cementland for more than a decade. Cassilly himself could be found from time to time operating one of the bulldozers at the site.

Police say the victim was found dead at 8:04 this morning. More information as it develops.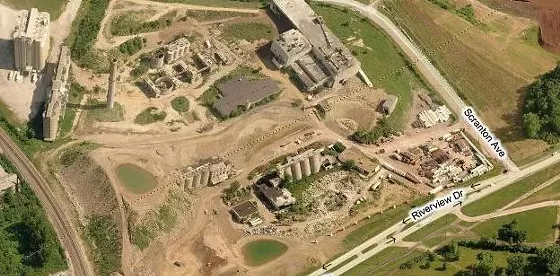 Police responded to 9403 Riverview Drive around 8 a.m. to find the driver of a bulldozer dead.