Kholood Eid
Cassie Smith pays her respects to Bob Cassilly with a quick visit to the City Museum.
It's a quiet day at the City Museum, despite
news breaking earlier of founder Bob Cassilly being killed in an apparent bulldozer accident at Cementland
. Still, a group of four friends -- who make a yearly pilgrimage to the City Museum from Springfield, Illinois -- made a point of coming to pay their respects.
"We were here for my friend's birthday last night. I saw it on Facebook that he passed away. It was insane," says Jason Spencer. "So I made everyone come out here...I was really expecting this place to be packed," says Spencer. "The guy was insanely crazy and brilliant."
There was little activity at the museum today, which is closed on Mondays, but some
folks on Facebook
(apparently unaffiliated with the museum or the Cassilly family) are planning a vigil to be held tonight beginning at 7:30.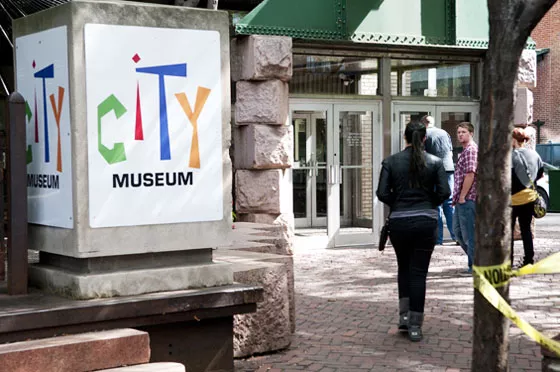 Kholood Eid
Shane Burbridge and friends at the City Museum.
Kholood Eid
Cassie Smith standing outside the City Museum.
"It's an adult playground. He's unapologetic about what it was," says Spencer. "He didn't cover it up with colorful nurf padding and baby-proof the place."
Spencer, along with Smith, Sydney Irvin and Shane Burbridge, reminisced about all the preparation that went into a trip to the "adult playground"-- which includes pulling out old and tattered clothes that could handle the strain. And they joked about all the battle wounds they'd wear with pride afterwards.
"There are very few people in this world who could make something like this," says Sydney Irvin. "It sucks to lose one like that. Such a great mind."