Josh Sparks, 26 South Grand Boulevard and Wyoming Street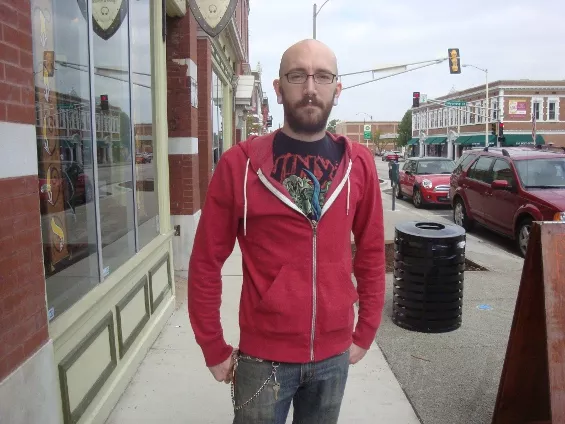 ​In an effort to celebrate the people who keep our city interesting, Daily RFT is launching a new weekly blog post, "Bold Types," featuring photos and street interviews with the fashionistas, fresh faces and free spirits of our town.
What do you do? I work at a tattoo shop, TRX Tattos. I run the counter.
How has the industry changed in the last five years? It's gotten better and worse. In some ways it's kind of gotten popularized by TV shows that don't really give an accurate depiction of the way the industry works.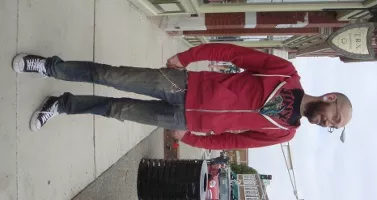 How so? It's not all about drama in most shops, or at least in shops that work well. It's just about making tattoos. You watch those shows like Miami Ink, which are pretty inaccurate. Now there's a show called Tattoo School, which is ridiculous.
Why's that? You can't really learn how to tattoo from a school. I mean, a tattoo apprenticeship is unlike any other kind of career. Learning to tattoo -- you can't teach that in classes. It's a life thing. You have to live the job.
How has the industry changed for the better? Well, we're finding out more things about the chemistry as far as the inks go, and as far as sterilization technique goes. It's become safer.
What's your most interesting tattoo? I like the Eagle that's on my chest. [Lifts shirt.] Because of the experience that went into getting it. I went to a convention with a coworker in Florida. We tattooed me for eleven hours straight, so it was kind of a life-changing event there.
Do you have a tattoo that you wouldn't want your mom to know about? [Laughs.] Yeah, I have a tattoo of a horse head really high on my thigh, right next to my crotch. It says 'fun ride' right next to the horse, so I don't want her to know about that one.
Let's hope she doesn't read our website. Yeah, exactly.