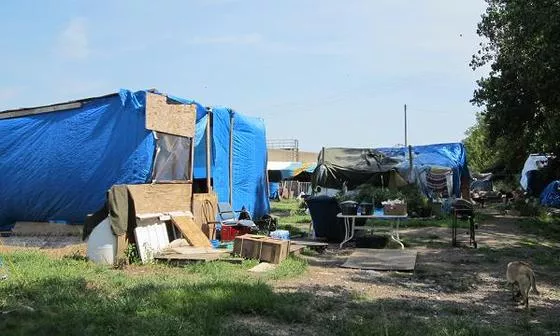 The mayor's office says it wants to save Hopeville residents from the elements.
St. Louis officials today announced that they're pushing ahead with
plans hinted at earlier this year
to dismantle the homeless camps north of downtown St. Louis.
In January the city issued
regulations for those living in "Hopeville"
and two other homeless encampments north of Laclede's Landing and warned that it could dismantle the tent cities if it believes they pose a danger to residents.
Today St. Louis' director of Human Service, Bill Siedhoff, announced that he and the mayor's office wants the camps closed by December 1, saying "it is imperative that we help people move out of this area before the onset of freezing temperatures."
Hopeville's
population declined significantly
during the heat wave over the summer. Today the mayor's office predicts that there's about 50 people total living the encampments along the Mississippi River. The city will conduct an official census this week.
Beginning in October the city will install a mobile unit on location to help the homeless secure alternative housing. The mayor's office contends that such help exists and is available for the asking by calling the Homeless Services Division at (314) 657-1704 or stopping by the office at 1520 Market Street, room 4062.
Problem is, as we understand it, many of the residents of Hopeville are plenty happy with their current confines. Besides,
winter isn't nearly as bad as the blistering heat of the summer
, with residents able to insulate their shanties and keep them warm with fires and generators.
Hopeville just happens to be the subject of an illustrated RFT feature story this week. Check it
here
.