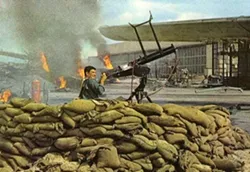 A parking attendant guards his lot recently in downtown St. Louis.
It's been
months in the coming
, and yesterday it finally came to fruition: We now have new rules impacting the way downtown St. Louis parking lots operate.
Yesterday Mayor Francis Slay's office announced that lots in the city's central business district will require an on-site attendant when open for business and secured access in and out of the facility when not in operation. The crackdown comes following an incident this past June when some
60 vehicles were broken into
during an evening Cardinals' game.
The new directive also requires that parking lot attendants complete training by the police department on how to spot suspicious activity. But not all parking lots will have to comply with the new rules.
Those with a good track record can apply for a waiver to be reviewed periodically. Hmm. Methinks I smell some "favoritism" claims coming down the pike.
"Waivers will only be given to specific lots that historically have been safe places to leave a vehicle," said Frank Oswald, building commissioner, in a statement yesterday to the press. "My staff will work with the St. Louis Metropolitan Police Department to ensure that we are giving waivers to only those lots without problems."
So whaddya think? Good policy or more evidence of the ever-growing nanny state?