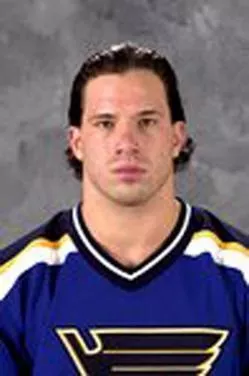 Life. Danton can't quite taketh, but, man, can he giveth.
Whoever says the U.S. prison system fails to reform its inmates needs to check out this tale.
In 2004 Mike Danton, a hockey player for the St. Louis Blues, was convicted of orchestrating a
bizarre murder-for-hire plot
and sentenced to 7.5 years in federal prison.
In
2009 he was paroled
and returned to playing hockey, first for
St. Mary's University in Nova Scotia
and now for a
minor-league team in Sweden
. And it's there where we pick up on the latest news concerning Mike Danton.
As
TSN reports
, Danton was playing for Sweden's IFK Ore Sunday night when his teammate, Marcus Bengtsson, was hit hard and started convulsing on the ice. As the player's eyes rolled back his head, Danton plunged his fingers into Bengtsson's throad and "clawed out his tongue," allowing him to breathe. Bengtsson survived the ordeal after a trip to the hospital.
Wrote Danton in his blog after the game: "One of the luxuries of my prison experience afforded me was to take a first aid course and become certified in first aid response."