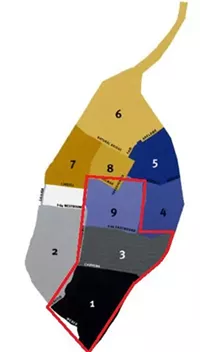 St. Louis police are on the lookout for a man involved in nine armed robberies and/or attempted robberies this morning.
All the incidents occurred between 5 a.m. and 7 a.m. in 1st, 3rd and 9th police districts (highlighted in red to the left).
According to the St. Louis Metropolitan Police Department, the description of the suspect is the same in all the incidents: a black male with long dreadlocks wearing a light blue hoodie or jacket and dark pants. The suspect was armed with a gun. Police tell Daily
RFT
that no one was injured in the altercations.
In one of the robberies, the suspect made off with a blue Chevy Monte Carlo license plate of CC5-H6A. He later approached other victims in that same vehicle.
Anyone with information is asked to call St. Louis police immediately.