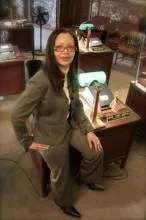 http://www.pubdef.org
Alderwoman April Ford Griffin will be the new executive director for the city's Civil Rights Enforcement Agency
Fifth ward Alderwoman April Ford Griffin has been offered by Mayor Francis Slay the job of heading the city's Civil Rights Enforcement Agency.
While both sides are "still talking over a few things," according to Ford Griffin, she confirmed this morning that she is interested in taking the position, which has been open since the agency's previous executive director, Ruby Bonner, retired from the post on July 1.
"This city is growing more and more diverse," she said after today's Board of Aldermen General Assembly meeting. "And there are people who haven't really been engaged. I think I can bring a lot of awareness to those people from this position."
Ford Griffin will be releasing an official statement later this afternoon.
The Post-Dispatch's David Hunn, who broke the story on Twitter last night, reported this morning that "It is a pick City Hall insiders are already calling both a good fit for her and a crafty political move by the mayor" because "it strips power from [Board of Alderman President Lewis] Reed -- who has long been expected to run for mayor, and is eyeing this coming election."
Ford Griffin was Reed's campaign manager for his successful run for the board's presidency in 2007. Chairwoman of the powerful Ways and Means committee and one of the board's most influential voices, she was seen as a valuable ally for Reed. Consequently, the move (along with anything else that happens in city hall these days) must necessarily be viewed through the lens which accounts for the (increasingly apparent) ongoing power struggle between city hall's two most prominent figures.
Reed and Ford Griffin, though, refute this assessment, both asserting that the move makes sense for the city as a whole.
"I think it's a really good decision for her," said Reed. "She'll have the opportunity to give voice to a lot of civil rights violations going on in the city."
Ford-Griffin, for her part, notes that she's been in the running to head city departments in Slay's administration many times before, so the timing of this offer shouldn't necessarily be linked Slay and Reed's emerging rivalry.
With a reserved but firm demeanor, Ford Griffin earned a reputation as a tenacious legislator, assailing or advancing bills with both relentless fervor and soft-spoken strings of statistics and anecdotes. She has been the 5th ward's alderman since 1997.
Her salary as executive director of the Civil Rights Enforcement Agency, $81,000, will be more than twice what she made as an alderwoman, $37,000, according to the P-D. A special election will be held to fill her seat.
As for today's General Assembly meeting, the session's kick-off, much of the time was spent debating a bill, proposed by 28th ward Alderwoman Lyda Krewson, to require that dogs and cats be micro-chipped and spayed/neutered.
Several aldermen spoke out against the bill, noting that many people who cannot afford the estimated $100 fee to spay or neuter their pet may just dump them into the streets to avoid getting fined and that the city must first figure out its plan to deal with the current stray animal problem before advancing this ordinance.
The debate would have been straightforward and unremarkable were it not for the input of 3rd ward Alderman Freeman Bosley Sr. He was opposed to the bill on principle, because he believes that not all dogs should be spayed/neutered. He told a story about the time thieves broke into his house and stole a bicycle. He wouldn't stand for that.
"They haven't broken into my house since," he said, "because I have some vicious dogs out there now."
Even Reed, from his podium at the front of the chamber, let out a chuckle.
Then one of the German shepherds ran away, Bosley continued, and when it was caught soon after, it was neutered. This would be a problem.
"It made her so docile, so friendly, that she will make it with anybody," he said, with his trademark winding vowels and raspy delivery.
He stressed the importance of guard dogs for many of the city's residents, and how, from personal experience, he knows they can be an effective crime deterrent.
"God help the person who breaks into my house," he said, left arm raising with conviction. "If you get in that backyard, you're going to have a terrible problem with those dogs because there is a six-foot fence and on the other side is an eight foot fence."
Krewson agreed to withdraw the bill and place it on the informal calendar for further discussion.