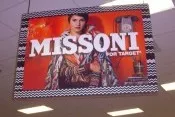 Did you hear? The iconic Italian knitwear fashion house
Missoni
is releasing a reasonably-priced collaboration with
Target
...today!
And...you have already completely missed it. Sorry.
By about 8:20 this morning at the Brentwood Target, twenty minutes after the big-box retailer threw open its doors, shelves and racks that had once housed the unmistakeable zig-zag patterned clothes, shoes and housewares were utterly picked over.
A once-full rack of galoshes, kids ballet flats and gorgeous pumps had almost nothing left -- only the tiny and giant would find shoes there. A single abject-looking shower curtain was all that was left on a ten-foot-tall shelving unit in housewares. "It looks like Poland!" one disappointed seeker observed.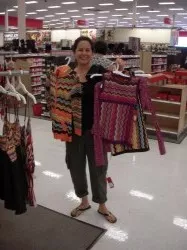 Elyse Thomas with clothes for her daughter.
"It just goes to show the greediness of humankind," said Elyse Thomas. She'd been seeking scarves to give as holiday gifts and got in at the store's opening, only to find a mob scene, with people grabbing merch willy-nilly and hoarding it in their carts. "You're an extra small! You're just
grabbing
that! It just shows," she says. (Thomas did, however, find a few pretty things for her daughter.)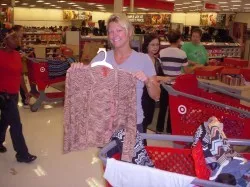 Aimee Gronborg and a Missoni cardigan.
Aimee Gronborg had no idea what she was in for when she went to Target this morning seeking dental floss and body wash. But she went with the flow and managed to snag what may have been the hottest item, an almond-toe stacked-heel pump. She also got a few pairs of tights and a cardigan.
Laura Maurice is a fashion retailer herself, the proprietor of high-end resale establishments
Women's Closet Exchange
and
Hollywhirl.com
. She says she was mostly seeking housewares, which were also quickly picked over. She'd been at the pop-up sales in New York City last week and slaked her thirst for clothing there.
Laura Maurice and her shopping buddy.
"People were walking out with luggage at nine," she said. Maurice bargained with another shopper for a tote, sort of an elongated bowling bag style, that she'd put in her cart and then decided against. That same shopper had been horse-trading all morning after filling her cart with "maybes" right away, swapping them with other women for their hauls.
One woman who declined to identify herself any further than "Jodi" had a strategy in place as she headed for the checkout with a blue maxi dress. She was off to the north-county Jennings location, figuring it would still be stocked: "The way it falls, it just doesn't get the skinny white-girl traffic." Good luck with that, Jodi.
Apparently the collection
crashed the store's servers
this morning, while New York City pop-up stores, which opened earlier this month to promote the collection, completely sold out in two days. It's not hard to see why: The stuff is not a dumbed-down version of Missoni. It's the same shapes and patterns you see for thousands of dollars elsewhere. The clothes seem well-made, constructed of fine materials like wool and leather.
Your humble correspondent -- who missed the main feeding frenzy by arriving fifteen minutes after the store opened -- walked out with a slim lime-green corduroy coat, a blue swing dress, a black-and-tan shift dress, a slip, a bra, blue tights and a men's black cardigan with a zig-zag pattern.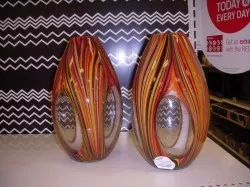 Not too shabby, for the bottom of the barrel!
Prices ranged from $24 to $49, but all that adds up. In the cold light of reality and car payments, several of those items are certain to be returned, and we can't be the only people who'll be pulling such a move. So take heart if you slept in and missed it. Surely stuff will be dribbling back into the store.
And, as of about an hour ago, there were still a few things for the buying. There seemed to be plenty of kiddie stuff, so if you know a savvy toddler who'd love a multi-hued capelet or a baby who demands only the chicest in onesies, there may still be time. There were also a few really gorgeous heavy glass vases left. Otherwise, for now, you're out of luck.
Missoni, we hardly knew ye.