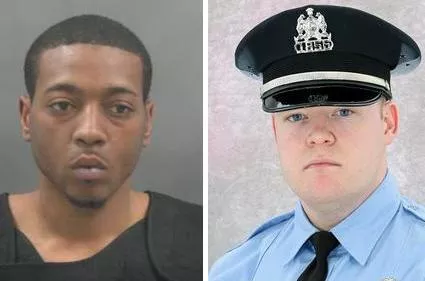 Haynes (right) died in a car crash while attempting to arrest Beckham for a residential burglary.
Sheldon Beckham entered pleas of "guilty as charged" yesterday to four counts in connection with the burglary of a south-side home and the subsequent death of St. Louis police officer David Haynes.
A resident in the 5400 block of Bancroft found Beckham in the act of burglarizing his home on March 24, 2010, and chased him off. The resident then called police with a description of Beckham and his vehicle. Haynes spotted the suspect blocks away and attempted to pull over Beckham, who sped away.
Haynes was chasing the suspect through the intersection of Kingshighway and Oleatha when an SUV not involved in the chase
struck his police cruiser
and sent it flying into other vehicles. Haynes, 27, was pronounced dead at a hospital after emergency responders finally pulled him out of the wreckage. Beckham was
arrested about twelve hours later
.
In court yesterday, Beckham pleaded guilty to second-degree murder, felony murder, burglary and resisting a lawful stop by flight with serious physical injury/death.
Sentencing is set for October 27. Beckham certainly deserves prison time for his actions, but prior to sentencing, let's hope the judge also considers the fact that Haynes was violating the law during the car chase. Perhaps
if he'd been wearing his seat belt
, he'd still be alive today and Beckham wouldn't be a "murderer."