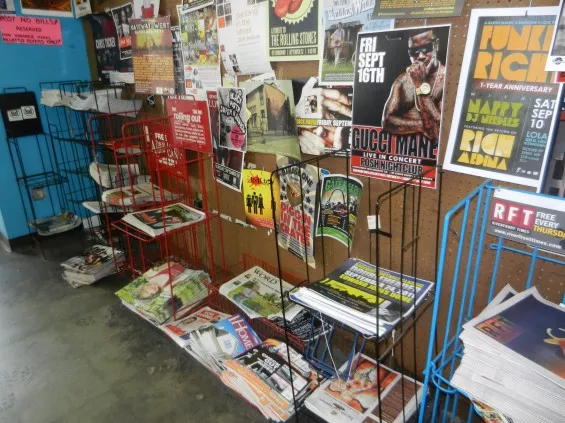 A subsidiary of Lee Enterprises hopes to take over management of freebie publication racks, like this one at Vintage Vinyl in the Delmar Loop.
The publishers of such local indie publications as
Sauce
,
Alive
and
Vital Voice
have long relied on something of a free-for-all distribution system: They plop their papers near the entrances of restaurants and retail shops, and eager readers pick them up.
But this summer, as July turned into August, a company called
STL Distribution
began circulating proposals that would kill the system as it currently exists in St. Louis. It contacted the businesses where free papers now proliferate, offering to set up its own racks and keep the free-pub areas tidy. The company wasn't even asking to get paid to do it. Just the opposite: It was willing to pay for the privilege!
There was a catch, however, and it was a big one: If the host business signed the deal, STL Distribution would gain absolute authority over which papers could sit in the racks and which couldn't. Papers would have to pay STL Distribution for the right to be on the new rack (essentially, a sub-lease). And, under the terms of the contract, no rival racks could crowd around and compete. In other words, STL Distribution was offering maintenance and money in exchange for total control.
And that freaked out the indies, because STL Distribution is a wholly-owned subsidiary of Lee Enterprises.
That Iowa-based company isn't just owner of the
St. Louis Post-Dispatch
-- it also publishes its own free publications, including
the
Ladue News
,
GO! Magazine
and
Feast Magazine
, the upstart food glossy locked in a war with locally owned
Sauce
. Fearing a squeeze out of the marketplace, the small publishers banded together to form the
Independent Publishers Alliance
.
"STL Distribution is resorting to a predatory distribution scheme," the alliance
declared
on its website in early August. "[It] has the potential to devastate free local publications in our community."
The St. Louis Beacon
covered the issue
thoroughly on August 29; KSDK Channel 5 followed up on Tuesday, announcing in its headline, "
Local Publications May Soon Be Hard to Find."
But
Tom Livingston
, STL Distribution's president, denies any sinister plot.
"We are not attempting to limit or lock out any competitor," he said in a statement e-mailed to Daily
RFT
. "To the contrary we need their participation in order for this to be a profitable venture."
So, we asked him, does that mean
Sauce
-- a direct competitor of
Feast
-- would be allowed in the racks so long as it was willing to pay for the privilege?
"My answer is without hesitation yes," Livingston replied. "I would welcome
Sauce
and any other so-called competitors to Lee Enterprise-produced publications to be part of the program."
Then why the exclusive language in the circulated contracts, which would grant STL Distribution "sole discretion" over which papers get rack space?
"The purpose of our having the final say on the publications was so we could turn down pornographic publications or publications that were objectionable to the business owner," Livingston writes.
(For the record, while the
Riverfront Times
is a free publication, it has not joined the independent publishers alliance. And while Livingston indicated in his email he'd be more than willing to sell space in the new racks to the
RFT
, we apparently have no interest in doing that, either. Our circulation managers profess to be mostly unconcerned about STL Distribution's plan.)
But some indies worry that pricing would be another way the distributor could, in theory, box out non-Lee publications. For example, it could charge
Sauce
a much higher rate than
Feast
. (Even worse for
Sauce
, it's unclear whether
Feast
would even have to pay STL Distribution, because both entities are owned by Lee.)
Livingston declined to give hard-and-fast pricing information, explaining that a publication's "sub-lease" will depend on how often it's published, what position it wants on the rack and the number of locations.
He also won't disclose how many locations have signed up so far, stating simply, "We are exactly where we had hoped to be at this time."
Allyson Mace
, publisher of
Sauce
, says she can't find a single location that has accepted the offer. And she herself has no intention of getting involved in the scheme on the publication end.
"It's not in my business model to pay for something that's free for me now," she says. Mace uses an independent distribution company to deliver her papers. Neither she nor the alliance members wish "to line the pockets" of a competitor, she says.
Mace also resents the fact that STL Distribution didn't come to her or the alliance members directly. (She found out through word-of-mouth.)
"If we're so critical to their success," she says, "then before going out and establishing racks, they should've considered the fact that we may not take their deal."
She concludes: "It's not a good way to start a business relationship."
Livingston counters this way:
It's unfortunate that the language in our retailer agreement was used to draw conclusions about our motives without a single member of the Publishers Alliance contacting me about their concerns and there was no point in me contacting them until I had a sufficient number of retailers signed on. My plan is to begin doing that toward the end of this month.

When we read this statement to Mace, she said with a laugh, "I'm sure he's gonna call me first."
There's been some speculation (admittedly, among non-lawyers) that the plan could raise anti-trust issues. As of now, no lawsuit or complaint has been filed with the U.S. Department of Justice. But Livingston doesn't seem concerned, pointing out that his attorneys believe the business plan does not violate anti-trust statutes.
Mace says while legal action isn't in the offing, "it hasn't been ruled out."