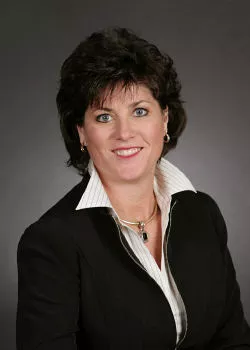 Rhonda Hamm-Niebruegge has done her part. Will legislators follow?
As legislators in Jefferson City yesterday continued to
debate $360 million in tax credits
to help fund an international cargo hub at Lambert-St. Louis International Airport, the airport's director, Rhonda Hamm-Niebruegge, plowed forward on her end of the project.
In a meeting Wednesday of the airport commissioners, Hamm-Niebruegge succeeded in getting her fellow board members to unanimously approve a lease agreement and operating contract with China Cargo, the freight division of China Eastern. The deal will have China Cargo leasing a 22,000-square-foot building at the airport for $175,000 a year (minus a few incentives) and providing flights to Lambert for up to three years, the first of which begin this month.
Yesterday Daily
RFT
reached Hamm-Niebruegge right after after inking the deal to ask her why she believes the cargo hub (a.k.a. St. Louis Aerotroplis) will take flight even as detractors continue to
poo
-
poo
its possibilities.
Daily RFT
:
What do you say to the critics? Why does St. Louis Aerotropolis make sense?
Hamm-Niebruegge:
Well, there are no guarantees in life. But we are an airport that needs to take more advantage of revenues. We have a large facility built as a hub and with the operating costs of large hub, but were only bringing in revenues of a medium hub. The outlook for the near term is that passenger travel will grow slowly if at all, and so you start thinking: What else is out there that is growing? International cargo is the growth. It is growing seven to eight percent a year and that growth is projected to continue into the next decade. Right now, of our $170 million in revenue, just two percent is generated from cargo and most of that is domestic. But with the type of airport we have and our access to river to rail and highway we're a good fit for cargo. Now a lot of critics out there will say it won't work. But others out they will say it can. They note the few delays in and out of Lambert and the distribution channels in and around the airport. Personally, I think it will work. We have everything to offer -- weather, capacity, geography and runways. All that is positive.
Okay, so why won't it work?
The one negative we have is we have one building left at the airport that can be used for cargo. When we have potential clients come to Lambert they say they like everything they see at the airport -- the capacity and weather. We never really shut down and that saves them fuel because they don't have long taxi time or have to circle in the air before landing. They get that. But they need warehouses -- facility space -- on the field. That's where the incentives in the Aerotropolis legislation come in to help fund that end.
Last week Francis Slay announced that China Eastern would soon begin one flight per week to St. Louis. But he cautioned that one flight a week is not a "hub." How many cargo flights per week does St. Louis need to make this project economically feasible?
We'd like to see about 30 flights a week and not just from a single carrier. But that's not going to happen over night.
Some people have suggested that you've been somewhat cool to the idea of St. Louis Aerotropolis or the "China Hub" proposal. Is that correct?
I'm not sure where they'd get that. I have said that when we talk about Aerotropolis, it's not just about the airport. It's also having the infrastructure -- the freight-forwarders -- in place to handle the traffic. So, I've said that that initially we can handle around three to four flight a week. But can I handle three to four a day? That would be a challenge. At least here in the beginning.
Back when St. Louis was a hub for TWA -- before American Airlines bought the company and changed Lambert to a spoke airport -- the city embarked on a $1 billion project to construct a new runway that now sits underused. How does that runway factor into St. Louis Aerotropolis?
It's probably the greatest asset we have right now in being able to sell ourselves in terms of large aircraft and cargo aircraft. It's such an asset to show them the four runways and our ability to keep three runways open even with snow.
Any idea what we will ship back to China -- and or other countries -- on these cargo flights?
That's part of the legislation in Jefferson City. It covers infrastructure at Lambert and manufacturing to fill the airplanes. We need to create more things in this region that are being shipped abroad. That could include products or parts. Or it might be shipping something into St. Louis -- like computers -- that we add value to and then ship out elsewhere for sale. Initially, though, I think it's going to be small-end parts, such as compressors and nuts-and-bolts items from Emerson and other companies. That is what you're seeing today. If you look at the numbers from the World Trade Center on exports they see pork exports rising. Right now some countries have restrictions on beef imports, but if those loosen you could see live animal cargo or fresh meat flights, the latter have to be shipped by air. It's a wide variety of stuff, really, although we won't know for sure until that first flight is booked.