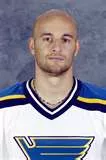 A former Blues player is among the 43 people dead following the
crash of an airliner Wednesday
carrying the KHL hockey team, Locomotiv Yarslavl. The Russian-built airliner crashed in western Russia shortly after liftoff. Just two people survived the accident.
Pavol Demitra was not one of the survivors. Demitra joined the St. Louis Blues in 1996 via a trade with Ottawa and went on to spend eight seasons wearing The Note. During his time here, Demitra was voted onto three All-Star team. The center had a career high in the 2002-03 season with 57 assists and 93 points.
He last played in the NHL for the Vancouver Canucks in 2010 before injuries forced him out of the game. He signed with Locomotiv of the Kontinental Hockey League later that year. Demitra was 37 and left behind a wife and two children.