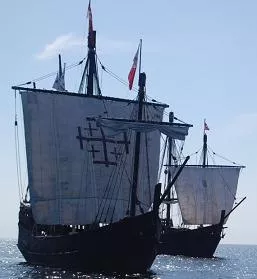 thenina.com
Get your Columbus Day started early.
For ten days this fall, Grafton will be home to replicas of two of Christopher Columbus' three exploring ships. The Nina and Pinta are currently making their way across Lake Michigan before heading down the Illinois River this month.
After a stop in Peoria, the vessels are expected to arrive in Grafton on September 30 and stay until October 9. The Nina was built in the late 1980s completely by hand (without the use of power tools) and is called the most "historically accurate Columbus replica ever built." The Pinta was constructed in 2005 to accompany the Nina on her travels.
For more information on the ships and tour information check out
The Columbus Foundation
.