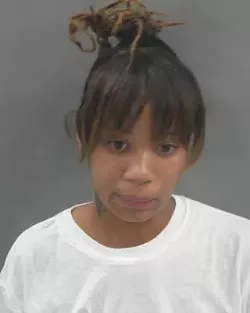 The East St. Louis mother who allegedly killed her two young children on Wednesday before driving to downtown St. Louis and striking a man and his young daughter with her vehicle was charged yesterday with assault.
The St. Louis Circuit Attorney's Office issued warrants on Yokei Smith, 25, for two counts of first-degree assault and two counts of armed criminal action in the striking of the pedestrians. After hitting the victims, Smith got out of the car with a shotgun and hid between parked cars near Memorial and Market Streets before St. Louis police arrested her without incident.
It's unclear if the same shotgun was used in the shooting deaths of Smith's five-year-old son and four-year-old daughter earlier in the day on August 31. Smith is expected to be charged in East St. Louis today with those two homicides. Smith's relatives say the mother was taking medication to treat depression.