What a long, hot summer it's been! Between pantless parties and dumbshits contracting deadly diseases whilst eating live crayfish, frankly, we're feeling tired and a little bit hungover. We're ready for fall!

In anticipation of Labor Day, and in hopes of putting the summer of 2011 in the rearview mirror, we compiled a list of the ten biggest douchebags who made headlines in St. Louis in the summer of 2011. Feel free to argue with our selections or suggest a few of your own; this is a big city, after all, and the place is crawling with potential nominees.

10. LaRon Williams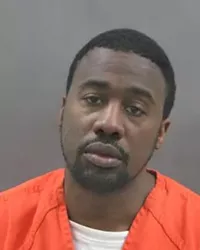 LaRon Williams: Choked his girlfriend and locked her in a dog kennel.
This prince of a man was found guilty in July of savagely attacking his girlfriend. Prosecutors allege that he beat her, choked her, tied her up, shut her up in a dog kennel and (she feared) nearly lit it on fire.

And, when the woman's dog came to her aid, Williams allegedly picked up the 75-pound pooch and whipped it across the room into an entertainment center.

Bonus: Williams had previously been convicted for trying to bribe a court clerk with a six-pack of Budweiser Select. He also threatened to release a sex tape featuring his girlfriend if she dared to press charges against him.

Here's hoping he rots in prison for a very long time.
9. Timothy Jones


Timothy Jones: Traded a get-out-of-jail-free card for sex.
Jones, a police officer in Country Club Hills, apparently had some difficulty luring women into the sack the conventional, non-slimy way. (You know: candy, booze, charm.) So he resorted to using his position to seal the deal. Jones was charged last month in St. Louis County with "acceding to corruption by a public servant" -- basically, offering to let a drunk driver off the hook if she had sex with him.

The worst part: Some poor drunk girl actually acquiesced. Can you say "beer goggles"?


8. Keith Conway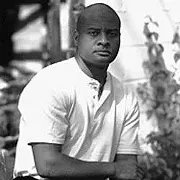 Keith Conway stole from one of the county's poorest towns.
As mayor of suburban Kinloch, Keith Conway presided over one of the poorest small towns in St. Louis County for more than a decade. But rather than help the people who elected him, Conway has now admitted that, in 2009, he began helping himself to Kinloch's already meager resources.
In court last month, Conway admitted to stealing at least $34,905 from the historically black municipality. He used the money to finance Caribbean vacations, pay for DirecTV, even pay his back taxes on an IRS-sponsored website.
When busted, Conway failed to see the error of his ways. Just hours after he was released on bond and agreed in court not contact the witnesses against him, he raced over to City Hall and began browbeating members of the board of aldermen -- who were, yes, witnesses in the case -- to listen to his version of events. He also began photocopying city documents to aid in his defense. He's now pled guilty to all three counts against him, including one added after the initial indictment charging him with witness tampering. We can hardly wait for his sentencing in November. 7. Kevin T. Malone
Most adults know not to sink to the level of teenagers. But this upstanding citizen -- a member of the board of review for St. Clair County -- showed his true colors when confronted with a mouthy youth. Kevin T. Malone, 51, claims that a fourteen-year-old black kid asked him to step into the street and called him a "white man."
But rather than ignore the teen, Malone fired back with the n-word and punched the kid in the face. Even after the police showed up, Malone kept firing off racial slurs. He also threatened to have the cop fired for daring to stop his assault. Now he's been charged with a hate crime. 6. Ryan and Caroline Waldo Ferret lovers everywhere were up in arms when Daily RFT reported in January that Ryan and Carrie Waldo's pet ferret had eaten seven of their infant's fingers. What bloodthirsty beasts! What a cruel world!
Good news for the ferret crowd: In June, the cops provided more information, and it suggested that the problem wasn't so much a hungry rodent as a pair of neglectful parents. Turns out the Waldos were actually texting each other from different locations while their poor babe was being munched on by the family pet. Neither was home -- and so they've now been charged with endangering the welfare of a child.
As for the ferret, he was killed after his little snack. And so we're thinking the Waldos should be on the hook for cruelty to an animal, too: If you're gonna have a rodent for a pet, don't leave it alone for hours with a tempting treat and expect it not to munch away. That's just cruel.
5. Leland Beasley This creep owned a video game shop.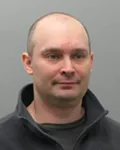 Leland Beasley: Molested boys and filmed it.
This creep molested at least ten little boys who came to his shop -- and then filmed them.
This creep was given the largest sentence ever in the history in the U.S. District Court in St. Louis: 290 years.
This is the kind of case that makes us thank God for police and prosecutors.
4. Joseph Gamache A south-county man who sports Aryan Nation tattoos and drives a pickup truck emblazoned with the Confederate flag, Joseph Gamache went berserk when he witnessed a group of teens of different races socializing in a parking lot near the South County Center mall.

Joseph Gamache: incompetent racist
First he grabbed a pickaxe and swung wildly at the teens. Then he hopped into his pickup and attempted to run them down while screaming the N-word. Later, when apprehended by the St. Louis County Police, Gamache acknowledged that he hates black people and would like to kill them all.
You may be wondering why Gamache is only ranked No. 4 on our list, seeing his clear-cut douchiness and all. One reason: His own incompetence. Somehow, despite having both a pickaxe and a 4x4 at his disposal, Gamache didn't manage to wound a single person, much less kill them. He's clearly a loser -- just not a particularly effective one.
3. Melissa Jackson Neighbors say Melissa Jackson's little boy Marquell was a sweetheart: a chubby-cheeked angel who loved to smile. So when eighteen-month-old Marquell was found dead in a trash bin early one morning near his south-city home, it was a horribly sad thing -- made even more horrible, perhaps, when police arrested his own mother on charges of murder.
Police say Marquell Jackson was beaten and then strangled. They accuse his 28-year-old mother of committing the crime even while she was pregnant with a second child. 2. Shawn Morgan
Shawn Morgan: steelworker killed a three-year-old neighbor
He may have been a steelworker by profession, but police also believe Shawn Morgan is a cold-hearted killer who strangled his neighbor, Breeann Rodriguez. What makes the whole thing even more appalling is that little Breeann was just three years old.
Morgan admitted to suffocating Breeann after he found her hanging out near his pool. He told police it seemed like it took an hour for the little girl to die. Then he stuffed her in the same bag he used to kill her and dumped her body in a floodway ditch along Missouri Highway 164.
Morgan later returned to the same ditches to dump Breeann's bicycle. A motive has yet to be identified publicly, but we can't imagine there's anything anyone could say that would mitigate our horror and disgust at what happened to Breeann.
And the No. 1 douchebags to make the news in St. Louis this summer....
1. Daquan D. Barnes, Demarcus D. Barnes and Latosha A. Cunningham These three Metro East hoodlums are accused of plotting one of the most heinous crimes in the area's recent memory. Knowing that 85-year-old Yoko Cullen was a regular at a Collinsville, Illinois, bingo parlor, police say the trio carjacked her, forced her into her trunk and then burned her alive.
The car was found three days later, with Cullen's corpse in the trunk; Barnes, his cousin Barnes and Cunningham have all been charged with first-degree murder. Unfortunately, Illinois no longer has the death penalty, so it looks like these three have no chance at getting the punishment they truly deserve.
It's been a long, hot summer. Aren't you ready for it to be over?