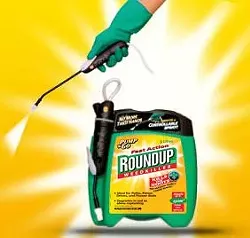 Scientists warn that the long-term effects of the chemical are unknown.
Updated 2 p.m.
The U.S. Geological Survey yesterday put out a
press release warning
of the increasing observations of glyphosate in water and air within the Mississippi River Basin.
Glyphosate is sold under the trademark of Roundup, a best-selling herbicide for St. Louis-based Monsanto. The USGS says that the use of Roundup in U.S. agriculture has increased eight-fold over the past two decades, from 11,000 tons in 1992 to 88,000 tons in 2007.
As its use has increased, so too has the places where its remnants can be found in water and soil. However, what impact that could have on the environment remains unknown, says Paul Capel, head of the agricultural chemical study team for the USGS.
"The concern is the unknown impact that this chemical could cause," says Capel, who notes that while deadly to plants, glyphosate has little toxicity to people people and animals. "We now know it's out there and the job now is to monitor what significance -- if any -- it has on the environment."
Capel found glyphosate to be frequently detected in the surface water, rain and air in sample areas in parts of Iowa and Mississippi where it is heavily used for agriculture. Moreover, the consistent occurrence of glyphosate in those test areas suggests that the chemical is making its way from farm fields to the broader environment within the Mississippi River Basin that
encompasses most of the Midwest
.
Glyphosate is the most commonly used herbicide in the world, yet scientists know very little about its long term effects to the environment. Capel added that while the amount of glyphosate his research team discovered in samples was significant, the quantity of the chemical still pales in comparison to the amount of nitrate (fertilizer) found in similar samples.
A Monsanto spokesman tells Daily
RFT
today that it saw USGS' announcement yesterday but is waiting to comment until it has reviewed the study.
Correction
: This article originally misspelled "glyphosate."