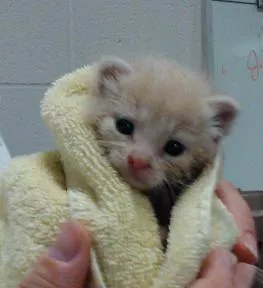 Peep, one of some 240 cats up for adoption at St. Louis' unofficial cat shelter, Animal House.
Much has been made in the past several weeks about animal care in St. Louis after
Stray Rescue severed ties with the city
, no longer serving as the city's unofficial dog shelter.
Now the city is scrambling to figure out how to deal with stray and abandoned canines in the city with
a lot of finger-pointing
but no real solution in sight.
Fortunately, no such problem exists when it comes to dealing with stray and abandoned cats in St. Louis. Since last August,
Animal House
at 2801 Clark has worked quietly to nurture city felines in the absence of a city-run shelter.
"We haven't really been seeking publicity," says Animal House chairman, Ed Throop. "We wanted to get up and running before going out there and announcing, 'Here we are!'"
Now, a year into operation, Animal House is ready for its coming out party. Already this 25,000-square-foot building just west of downtown is home to some 240 cats that arrived from the old Gasconade shelter or have been picked up in the city since last summer.
The animals lie languidly, as cats do, in dozens of crates or large community rooms (built out of PVC tubing and chicken wire) that can accommodate a dozen cats or more. Two full-time employees, a part-time staffer and dozens of volunteers tend to the animals, which range in age from their early teens to five-week-old Peep, a yellow tabby found abandoned and alone this summer in north city.
For weeks this summer Brandyn Jones, executive director of Animal House, used an eyedropper to nurse Peep every two hours until he could eat solid food.
Stimpy and Sunny lounge in one of Animal House's community rooms.
"It's a labor of love," says Jones, who can walk though Animal House and name every feline there and tell its story -- from the cats in the feline AIDS ward to the kittens being weaned from their moms. All of the cats can be adopted directly from Animal House. (You can view all the cats via
Petfinder.com
.)
While the existence of Animal House may be one of the best-kept secrets in town, city residents are no doubt familiar with its previous incarnation as Animal House Fund. The fund began as an effort to build a new, $4-million pet shelter to replace the old Gasconade facility. An "Animal House Fund" check mark still appears on city utility bills, allowing people to donate toward the building of that new shelter.
The city has collected over $250,000 from those utility-bill donations. Earlier this summer Stray Rescue thought it was entitled to that money. A few aldermen disagreed, prompting the dog rescue organization to stop providing free animal care to the city.
For several years, Throop, a retired commercial real estate developer and past chairman of the Missouri Humane Society, ran Animal House Fund. He says few of the major private and corporate donors he was soliciting wanted to give money if Animal House Fund was only going to turn around and hand the shelter over to the city.
"Donors want to make sure that their investment in a charity is going to be safeguarded and protected," says Throop. "When I would tell people that we were going to build this wonderful facility and then toss the keys to the city, well, that wasn't very bright of me."
Though the new city shelter never materialized, Throop says he and others involved in Animal House Fund still wanted to play a part in helping city animals. That's why they came forward with the idea of providing the city with a cat shelter at the same time that Stray Rescue was offering to provide the same service for city dogs.
Today Throop says he's all in favor of Stray Rescue getting the $250,000 collected through donations on city utility bills. Of course, he'd be happy for Animal House to get some of that money, too. But he says he doesn't want to "enter the fray" and hasn't formally requested any of the money.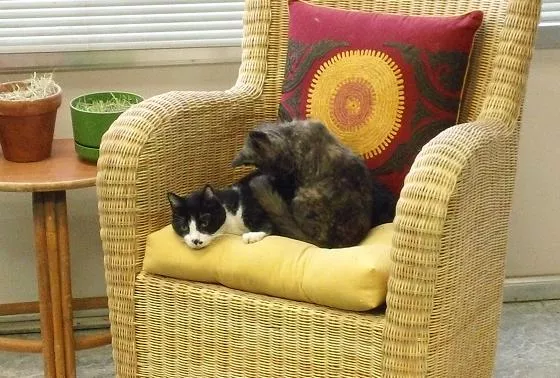 Spot and Miriam are special needs cats with medical issues. The two are constant companions, helping each other through their conditions.
That said, Animal House is in need of any assistance it can get. The center has operated largely on Throop's largess (he secured the note for their building) and donations from a few other major benefactors. Today Animal House survives on a budget of $1,000 a day.
"We're proud to say made it through the first year, but we need ever-increasing donations to do what we're doing," says Jones. "Our goal is to become the organization people automatically think of when they're wanting to adopt a cat or need information about abandoned cats."
If you'd like to donate money, gifts or your time to Animal House, check out
its website
. Multiple opportunities exist.