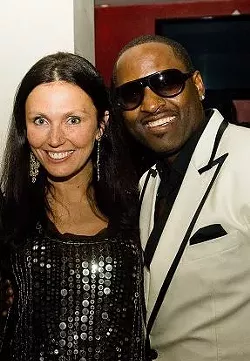 Ira and Johnny: "So happy together..."
Ira DeWitt, the wife of St. Louis Cardinals' president Bill DeWitt III, has dropped her lawsuit filed against former New Edition front man, Johnny Gill.
DeWitt, owner of the St. Louis-based Notifi Records,
sued Gill earlier this month
in a Los Angeles court after the R&B singer attacked her on Twitter, calling her "deranged" and "fucking nuts." Gill was signed to Notifi at the time of the Twitter assault and believed DeWitt intentionally released a single from his upcoming album onto the internet without his approval.
Yesterday, DeWitt and Gill announced that they're still working together and have put aside their differences.
"I'm elated to continue this journey that I've started with Ira and Notifi Records," said Gill in a statement. "Through conflict we found a resolution, and not to mention I've found my friend again."
Notifi will release
Still Winning
, Gill's first album in 16 years on October 11.
"I'm very happy to put this dispute behind us and I'm confident that [Gill's] loyal fans will be thrilled with the final product," said DeWitt.