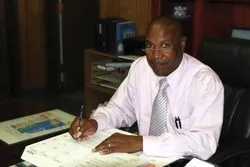 James McGee: Won't let state ruling get in the way of his city cashing in on drivers.
Vinita Park is the
latest north St. Louis County suburb
with plans to use speed cameras to ticket drivers passing through its borders.
Officials for the postage-stamp of a city (encompassing 0.7 square miles) approved a deal this month with camera vendor Redflex that will provide Vinita Park with a patrol car outfitted with a mobile camera. The total cost of Redflex's donation adds up to $100,000. The company expects to pay for its up-front costs once it starts issuing citations. Redflex would make $30 per ticket. Vinita Park would make a yet-to-be disclosed amount.
The deal also seems to directly conflict with the wishes of the Missouri Highway Commission that oversees MoDOT.
In January the
commission ruled that speed cameras
can only be used along state roadways in school, work and Travel Safe zones (a Travel Safe zone is a designated area where extra precaution is necessary due to the stretch of road experiencing a higher number of crashes than similar highways).
Vinita Park mayor James McGee, meanwhile,
tells the Post-Dispatch
he'll place the Redflex car anywhere he damn well pleases.
"If residents complain about speeding on Page (Avenue), we put it on Page," he said. "If there's an issue in the residential area, we'll put it there."