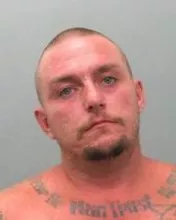 Joseph Gamache: What a winner.
Update: Daily RFT just got off the phone with Lieutenant Karl Bulla with the St. Louis County police department. Bulla was one of the officers responding to the scene Tuesday night involving a racist man chasing teens with a pickaxe and attempting to run over them with his pickup truck.
According to Bulla, 28-year-old Joseph Gamache was leaving a birthday at a Chuck E. Cheese adjacent to the mall around 8:30 p.m. August 23 when he saw the teens -- several white girls, a couple white and black boys and a Hispanic male -- walking toward the pizza parlor.
"Some words were exchanged," says Bulla. Then everything went nuts with Gamache grabbing a pickaxe out of the back of his pickup truck and chasing after the kids. When they ran away he jumped in his 4x4 pickup -- decorated with a Confederate flag on the back window -- and gave chase screaming obscenities and the N-word as he tore through the parking lot.
"He drove through a median and between some trees to chase them onto the parking lot of South County Mall," says Bulla, who adds that two witnesses -- a white woman and a black man waiting for a bus -- corroborated the teens' account of what happened."
Police pulled over Gamache's vehicle about two miles east of the the mall near Lemay Ferry and Buckley roads. Gamache did not resist arrest, though he denied being involved in the incident.
"He had a woman in the vehicle with him who basically gave him up," says Bulla. "He let us know that he doesn't like anyone but whites and he doesn't care for police, either." Bulla notes that Gamache was covered in Aryan tattoos.
Original post follows...
A 28-year-old St. Louis County man went on a rampage at the South County Center mall Tuesday -- swinging a pickaxe at a group of teens and then attempting to run them down in his truck while screaming racial slurs.

Police say Joseph Gamache's violent spree was triggered when he saw one white kid in a group of blacks. As the St. Louis Post-Dispatch reports, Gamache later told police that he hates black people and wants to "kill them all."

But Gamache failed to injure even one person during his race-fueled meltdown. Apparently, he just kept missing -- with both the axe and the truck. As the P-D reports, Gamache allegedly swung the axe at three teens (two black and one white) before he was joined by four friends. At that point, he hopped into his car and tried to run down at least two people, tossing out some n-bombs along the way. Nice guy, eh?

Court records show that Gamache is now facing three counts each of first degree assault and armed criminal action, as well as one count of unlawful use of a weapon. He was being held on a cash-only $100,000 bond and was set to be arraigned in the St. Louis County Circuit Court this morning.

He previously did two days in jail for driving on a suspended license and has been cited for various traffic offenses, but we could find no previous record of any altercations involving pickaxes or the desire to kill all black people.

The St. Louis County Police Department hasn't returned our calls seeking comment, but the P-D reports that the cops have seized the pickaxe.
Sarah Fenske contributed to this report.