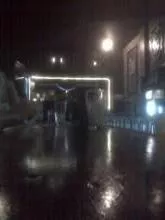 Albert Samaha
What did the patrons of Three Kings think about local control? A mix of support and indifference
In the
special session
a couple of weeks from now, Missouri legislators will vote on whether St. Louis should regain control of its police department for the first time since the Civil War era.
As we wrote in our cover story Just Who Does Jamilah Nasheed Think She Is? last week, the bill is likely to pass. Mayor Francis Slay, Speaker of the House Steve Tilley, and the House bill's sponsor Jamilah Nasheed all believe that the votes are in place, that state legislators have finally agreed that St. Louis should control its police force.
But what do The People think? In November, 61 percent of St. Louis voters supported local control by voting "yes" on Prop L. To see if these sentiments have hardened, we went to Three Kings in this week's edition of Of the People.

The bar's sentiment, it turned out, was a mix of support and indifference.
Allen Groswald, who is self-employed, sided with Slay and Nasheed and the rest of the local control supporters.
"I think the police department should be controlled by the city, not the state," he said as he sipped from a glass of New Zealand sauvignon blanc. "Jefferson City is too far away."
It has been tough to pass a local control bill, he said, "because of patronage." Groswald posited that state control has been tough to shake because the governor's office and the police commissioners enjoy the power that the current police structure brings them. He cited the time then-commissioner Vincent Bommarito got caught trying to use his position to get his nephew out of a DUI. This politicization of the police department has been a key point in Slay's argument for local control: because the department is controlled by governor appointees, it is not directly accountable to St. Louis citizens.
But then Groswald said, "Or does it reduce patronage? Depends on the moral compass of whoever's in control."
This perspective reflects the current populist cynicism toward government: sure, it makes that the city control its police department, Groswald suggests, but would City Hall really be any more responsible than Jeff City?
It is this political cynicism that led another patron at the bar to vote against Prop L last fall.
"I don't think the city should control it," said the patron, who wore a St. Louis Blues shirt and refused to provide his name because he didn't want his political opinions publicized. "I think the city does a lot of shady stuff."
The patron asserted that the city's unaccredited school district served as an example of the city's incompetence and, accordingly, City Hall might not deserve the people's trust. Such was the case made by legislators who opposed local control.
A few minutes, later though, the patron had a change of heart.
"But St. Louis is like the only city that doesn't control it's own police, though, right?," he said. "So it probably does make sense."
Interestingly, while local control has been a contentious issue around Jefferson City, it did not induce much fervor among the patrons at Three Kings. Those who supported local control didn't say much more than the patron in the Blues shirt did: that local control seemed to make sense because everybody else does it.
And while the issue has been a headliner for politicians and reporters, a decent chunk of the people approached in Three Kings pleaded ignorance. For instance, Greg Folk, an insurance salesman who sipped a white IPA, matter-of-factly said, "I haven't heard about it." And, a few seats down from Folk, Brandon Brumage, a web designer, said the same thing.
Then he added, "Honestly, who really cares who controls it? It's not really like we have much of a say over it-- it's all politics."
It's a fair critique of the local control debate, in the sense that some voters may not think the issue is particularly significant. Which does make sense. After all, it doesn't overtly affect people. It's not likely to dramatically alter day-to-day on-the-ground police work (though local control supporters would argue that the change would enhance police efficiency by making the department more accountable to St. Louis citizens). And it has nothing to do with the economy, jobs, health care, social security, or any other populist issue (other than maybe union rights to a degree). It is a bill designed for nuanced and long-term improvement in an aged issue, at a time when voters thirst for drastic and short-term solutions to urgent problems.