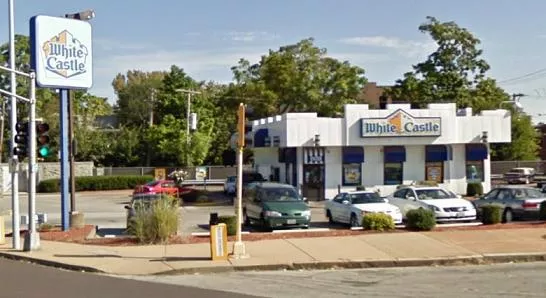 A 33-year-old woman is in custody after a fast-food robbery gone wrong early yesterday.
According to St. Louis police, the suspect drove through the drive-thru at the White Castle at Hebert and N. Florissant (above) around 2:52 a.m. Monday. Once there she brandished a gun and handed the cashier a note announcing a robbery. While employees locked themselves into an office and called police, the woman climbed into the drive-thru window and stole the cash drawer from the register. Along the way she also dropped her gun, which turned out to be a plastic toy.
Police then got a description of the suspect's vehicle and located the car a half-mile away in the rear of the suspect's home in the 1900 block of Warren. When police tried to arrest the suspect, she climbed to the roof of the three-story home and jumped off the roof. The woman was taken to the hospital. Her injuries weren't believed to be life-threatening.
The cash drawer had yet to be recovered as of late yesterday.