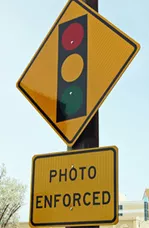 A judge's opinion questioning St. Louis' red-light camera ordinance has prompted a handful of new class-action suits against other Missouri municipalities who use the controversial traffic technology.
This month, attorneys Ryan Keane and John Campbell with the Simon Law Firm filed class-action suits against Creve Coeur, Florissant, Ellisville, Arnold and Kansas City arguing that red-light cameras in those cities violate Missouri law. The suit also names as a defendant the camera vendor for those cities -- American Traffic Solutions, aka ATS.
Keane and Campbell base their argument on the "partial judgment" Judge Mark Neil made May 20 in a class-action suit filed against St. Louis that continues to wend its way though court. In that decision, which is under appeal, Neil wrote:
"The use of an automated traffic control system to police traffic offenses is a drastic departure from the traditional police powers granted to municipalities; and seen here, it raises a whole host of legal and constitutional issues. A municipality may only exercise its police powers under authority granted to it by the state...Because the red-light camera ordinance does not enact 'rules of the road' or 'traffic regulations,' the Court finds, in absence of other enabling legislation by the State of Missouri, that the City of St. Louis did not have authority to enact such and Ordinance. Therefore, ordinance #66868 is void."
"If Judge Neil's opinion holds up, then it's true across the state," Keane tells Daily
RFT
. "And if these cameras are truly about public safety then people should accrue points on their licenses when they get a red-light camera citation. But that's not the case, because they're treated as a non-moving violation even though state law defines a running a red-light as a moving violation."
Particularly galling, says Keane, is the way municipalities skirt the law in order to collect from those people it believes ran the light. "In Creve Coeur and Ellisville they're not even trying to go after the actual driver who allegedly violated the signal," says Keane. "They hold vehicle owners liable even if the owner can prove he wasn't the driver."
The attorneys hope their lawsuits will void the red-light ordinances in the cities they've filed suit against and get a full refund for those who've paid the citations. ATS is named in the suit, says Keane, because it's an "out-of-state corporation that is funneling millions of dollars out of Missouri economy to Arizona" and because the company was instrumental in helping to draft the local ordinances allowing for the cameras.
Keane believes other circuit court judges will side with Neil's ruling. In so doing, Keane and his law firm could be awarded legal fees or a portion of any settlement.
View a copy of the Creve Coeur suit after the jump.
Creve Coeur Lawsuit Cameras