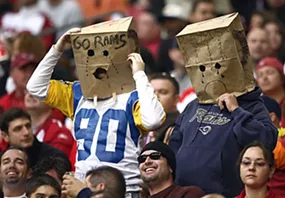 Oh, come on, guys. It wasn't that bad. Then again, it wasn't all that great, either. Carry on.
Okay, now remember how excited we all felt, how borderline giddy we were, following the
Rams
' dismantling of the
Indianapolis Colts
in their first preseason game? I do. I also remember how hard I tried to inject some realism about the meaninglessness of preseason football games, and how I think I may have failed somewhat in my own excitement.
Well, we're all in a different sort of mindset now after watching the Rams struggle against the Tennessee Titans, I'm sure. After all, aside from the first play of the game, when Sam Bradford went deep to Brandon Gibson for a quick-strike touchdown, the first team offense didn't seem able to get much of anything going, and the defense didn't look a whole hell of a lot better, to be honest.
However, if it was an ugly win -- just an ugly performance overall, really -- then the same message about preseason football still applies. There's a reason these games don't count. The Rams didn't look great, but they still have a week of practices and at least one more game (the starters usually don't play in the final preseason game at all, but it wouldn't surprise me to see that change for a few teams this year, considering the condensed nature of camp), to try and get it all worked out.
That being said, let's take our weekly look at who gained points and who lost them in week two of the preseason.
Before anything else, I have to say I think Steve Spagnuolo may be the biggest winner this week. His team played brilliantly the first week, then came out and really struggled in week two. So why would that make him a big winner? Simple. He's got something concrete to work on -- and scream about -- now. When a team plays really beautifully, it's tough to find much to teach. You try and guard against complacency, but that's hard. When a team comes out and lays a bit of an egg, though, all of a sudden the coach has plenty of fodder to get after his players with. Spags will use this flat performance and the Rams will come out better for it. He would never admit it, I'm sure, but I'll bet the coach may be the happiest guy at Rams Park today.
Stock Rising
Donnie Avery -- Avery made a very nice grab on a touchdown pass from A.J. Feeley, which was exciting to see, but more importantly he looked healthy. Avery brings one thing to the table no one else in the receiving corps possesses, and that is down the field, flat-out speed. Avery is a true burner, capable of stretching the field vertically, and the Rams are light on wideouts with that capability. Danario Alexander represents a deep threat, certainly, but even he doesn't have the kind of pure footspeed Avery is capable of. A healthy and unrestricted Donnie Avery could make a real difference for this year's offense.
Cadillac Williams -- For the second week in a row, Cadillac Williams showed plenty of reason why Rams fans should be excited about having him in the fold. In fact, while I wouldn't say it should be indicative of what we'll see on the field in the regular season, Williams actually looked better than Steven Jackson on Saturday. Jackson too often was bottled up behind the line, shuffling and looking for a lane, while Cadillac simply planted and turned upfield, hitting the hole with authority and momentum.
I'm not saying Cadillac Williams is better than Steven Jackson, or that he'll be more productive. What I am saying is that I'm very happy to have the Caddy as part of the Rams in 2011.
The Deep Ball -- Okay, so we didn't see the consistent downfield success that would lead a person to believe Mike Martz had been hired as the new offensive coordinator this season. That being said, the Rams did take several shots down the field Saturday, with varying measures of success. To me, the mere fact they opened it up and threw the ball vertically is an exciting development after watching last year's chronically limited attack.
Greg Salas -- Seeing his first action of the preseason, Salas looked very much as advertised. He dropped the first pass to come his way, then rolled off a couple very nice catches afterward. He looked quick, if not particularly fast, and appeared very comfortable catching the ball in traffic and looking to turn upfield for extra yardage after the catch. He looked, in short, like a taller version of Danny Amendola, which is kind of what I have the sneaking suspicion he was drafted to be. Amendola isn't going anywhere this year, but he's in line for a healthy raise soon, and it wouldn't surprise me to see Salas replace him in the slot as early as next season if the Rams like what they see from the Hawaii product. Nothing against Danny, of course, but in the NFL teams are always looking to find your replacement, and if they're not they probably should be.
Mardy Gilyard -- Gilyard needs some love. He's been perhaps the most maligned figure in recent Rams' history, and let's face it, not without reason. Couldn't get the playbook down last year, looked tentative in the return game, just generally didn't show much of the skills he was drafted in the fourth round for. Even so, some of the fan reaction to him has been way over the top negative.
So far the preseason has been a mixed bag for Gilyard. When he gets the ball in his hands, he still looks dynamic, but he also dropped a punt in the opener and didn't really get open as often as you would like. Against the Titans, though, Gilyard looked much more confident receiving kicks, and laid a hit on a Titan return man playing gunner that rattled my teeth just watching it. Special teams contributions will likely be Gilyard's best bet at procuring a roster spot this year, and it looks like he's doing all he can to make those contributions stick. At the beginning of camp I didn't think there was any way Gilyard made this team. Now, I'm thinking he just might stick around.
Stock Falling
Lines, Lines, Lines -- Both the Rams' lines were borderline terrible Saturday. The defensive line in particular looked small and weak against the Titans' superior size, with Tennessee running the ball pretty much at will. There were a couple players rotating in and out who hadn't been on the field yet, so there is a bit of extenuating circumstances there, but still. After looking almost unstoppable at times against Indy, the D-line was unable to generate really any kind of meaningful push against the Titans at all.
The offensive line fared no better, with Sam Bradford under pressure for much of the time he was in the game and the running game sitting stagnant. Hank Fraley and Jason Brown both looked especially bad, but it isn't really fair to single out one or two individuals. The whole offensive line has to play better, period. Whether it was a result of the plays being called, missing a starter, the Titans' line playing out of their heads, or just a down day, the bottom line is this unit has to get better if the Rams are to have any hope of fielding a plus offense in 2011.
Mike Sims-Walker -- I liked the pickup of Sims-Walker when the Rams brought him in, thinking it was a really solid value move, even if I was a little lukewarm on the player himself. So far, though, what little we've seen from the new acquisition has not been promising. Twice on Saturday Sims-Walker turned sure receptions into negative plays, juggling one ball right into an interception, then turning the wrong way and falling down on another. He did make one solid catch later on in the game, but colour me seriously unimpressed with his results thus far in camp.
Linebackers -- Another unit which played very well against the Colts only to take a step back this week, the linebackers were burned several times by cutback runs and other misdirection type plays. We've seen in the past how overpursuit by linebackers can turn a simple running play into a 17 yard gain and a safety tackle, and that was much the story on Saturday. To be fair, the Rams were working in new players and rotating guys quite a bit, so I'll give the unit as a whole somewhat of a pass.
Unfortunately, that pass doesn't change the fact the preseason is winding down, and there isn't a whole lot of time left to get assignments worked out properly. It's tough when a big chunk of a particular unit is seeing the field for the first time, but the season is coming fast. It has to get better.
I have a pair of honorable mentions for the up list, as well: Thaddeus Lewis and Brandon Gibson. Lewis played very well as a third-stringer late in the game, and I fully expect him to be the Rams' backup quarterback by next season if not sooner. Gibson made the one catch on the long bomb early in the game, which was exciting, but I wouldn't count on the opposing defense blowing an assignment that badly every week. Still, he caught the ball and didn't fall down (it was close, though), so he gets some credit for hauling in the TD.
In the end, the Rams played a sloppy, ugly game, very much what you expect to see in preseason, and they looked overmatched by Tennessee's raw physicality. Still, they came away with the win, which even if it doesn't count in the standings, should say something about the guts of the team.
Next week is the big one, the third preseason game, when the starters will be on the field for a long time and more of the actual in-season gameplan will be run. The Chiefs should present the perfect foils, and we'll see if the Rams can turn this past week's gutty but ugly performance into something a bit more representative of a team ready to start playing games that count.