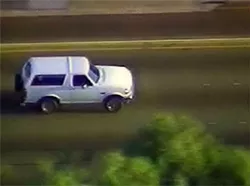 If only a white Bronco were involved in both cases.
Quick: What do the Kenneth Gladney and O.J. Simspon sagas have in common?
1. It seems they won't EVER go away.
2. They both hinge on a civil suit after acquittals during criminal trials.
Yes, last month prosecutors
failed to get a jury to convict
two members of the SEIU union accused of
beating up Kenneth Gladney
, a vendor of Tea Party memorabilia, at a town hall meeting in 2009. But Gladney isn't giving up.
In a
civil suit filed Friday
in St. Louis County Circuit Court, Gladney blames SEIU members Elston McCowan and Perry Molens for injuries to his head, neck, shoulders, arms, face and back, in addition to mental anguish. He is seeking at least $50,000 in damages and also names as a defendant the president of the Service Employees International Union.
According to Gladney, the union "ordered, encouraged, and arranged McCowan and Molens to appear ... to harass, abuse and beat those individuals who held political views."
Gladney's attorney, Matthew Hearnes, believes it will be easier to win a judgment in civil court. And, hey, it worked for the family of Nicole Brown. Still, we think Hearnes has his work cut out for him.
For starters, Gladney could provide no medical records during the criminal trial to show that he sought treatment following the alleged attack. He also made conflicting statements about the neck brace he wore into trial. Asked by the defense attorney if the brace was a result of the alleged attack,
Gladney said no
. But after he lost the trial, Gladney
told reporters
that the neck brace was indeed a result of the beating.
Will Gladney get his facts straight during the civil case?