Allie Ware, 18 Washington Avenue and 14th Street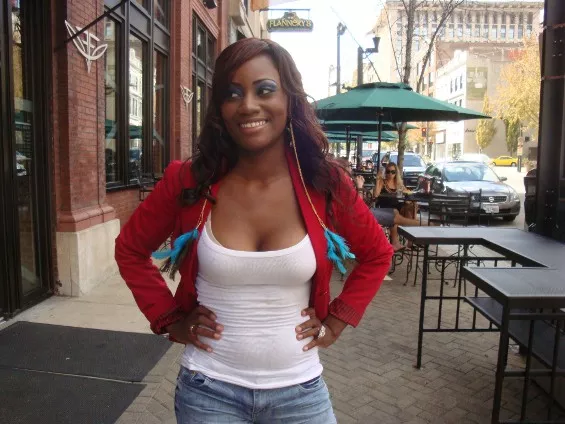 In an effort to celebrate the people who keep our city interesting, Daily RFT is launching a new weekly blog post, "Bold Types," featuring photos and street interviews with the fashionistas, fresh faces and free spirits of our town.
Can RFT take your picture? Yes, but no boob shots.
What do you mean? We're not selling boobs. They're huge.
Is that a bad thing? No, it doesn't bother me. The bigger the better.
What are you up to? Taking pictures for No Limit 2 Beauty. That's the company that got me into modeling. We're starting a mobile team where we go out and advertise our business.
Are you from St Louis? Yes, I'm from Florissant, but I'd like to move downtown to see how it is living down here. A lot of people say it's changing.
So are those earrings the longest earrings you've ever worn in your life? Yeah, they're long, and at the end of the chain they've got brown and green a blue feathers. They're pretty cute, and cheap. I got 'em at Coco Chanel.
You're tall. Ever play sports? No, I'm a girly-girl. I only played sports in middle school. I ran track and tried basketball for a week.
Are you the tallest girl in most rooms you walk into? I'm not the tallest. I'm only 5'5''. These heels are like six inches.
What's the style? Hooker boots.
Is that how they're supposed to make you feel? [Laughs.] They make me feel like a classy prostitute. Cute, but not too nasty.
What's in the future for you? I want to move to Florida. I'm studying biology and I'd like to be forensic scientist.
If I'm a victim of a crime, will you solve it? Yes, call me, and I'll help you out.