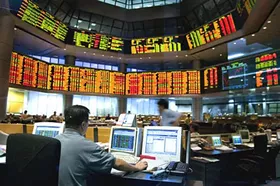 Wow, fantasy football has really gotten complex, hasn't it?
I have to tell you, after watching the
Rams
run roughshod all over the
Indianapolis Colts
Saturday night, it's tough to remember the preseason mantra. "These games don't count. These games don't count. These games don't count." Repeat it with me, children, and we just may all be saved.
Still, if we needed any reminder of the failure of preseason results to translate to the regular season, we should be thankful to most every national media outlet under the sun, who have not missed a chance to poo-poo the Rams' victory by dragging out the Colts' stunningly awful exhibition record. Rarely do you see a statement so simultaneously true and insulting as, "Well, sure the Rams won. The Colts are 5 and 23 in preseason games the last 7 years. Hell, I'm pretty sure they're trying to lose."
Putting that aside, though, the only thing we really learned about the Indianapolis Colts in this game is they really, really need to hope Peyton Manning stays healthy. Beyond that, their preseason record doesn't mean anything. They know they're good, and they have nothing to prove.
The Rams, on the other hand, had plenty to prove. And while you really can't prove anything when the games don't count, it wasn't for lack of trying from this team.
Really, if you were the Rams, you couldn't have asked for a much better start to the preseason. Not only did they get the win, virtually every new addition the Rams made this offseason who was on the field made a positive contribution of some sort.
Quintin Mikell
had an interception.
Harvey Dahl
looked as advertised, which is to say he looked like a non slow kid version of
Richie Incognito
. The only real exception was
Mike Sims-Walker
, who came away without a catch and is day-to-day with a groin injury.
Of course, the preseason isn't about wins and losses. It's about trying to see how the team is ultimately going to come together and (hopefully), gel into a coherent, finished product, ready for competition. To that end, here are some of the big winners and losers coming out of the Rams' first preseason game of 2011.
Stock Rising
Offensive Line
The biggest story of the night, in my ever so humble, had to be the performance of the Rams' O-line. Last season we saw a porous, soft unit that, while anchored by a pair of high quality young tackles, lacked push in the middle as well as any kind of killer instinct. Adam Goldberg in particular was miscast as a guard, struggling mightily to open up any sort of running lane whatsoever. Jason Brown at center had a down year as well, and the two are not necessarily unconnected.
The offensive line I saw Saturday was everything last year's unit was not. Harvey Dahl is the only newcomer, but he seems to have infected the rest of the line with his intensity and barely-concealed rage. Even Jacob Bell, whom I admit to always having thought soft, looked to be playing with a mean streak. It's fair to say Dwight Freeney wasn't playing, but I honestly believe even his presence on the field wouldn't have been enough to significantly alter the equation.
Sam Bradford not only wasn't sacked, he wasn't touched. He wasn't pressured. At one point he made chili in a Crock Pot before delivering a pass. The running lanes were wide and clear, and I'm sure I'm not the only one to develop a pretty serious semi watching Dahl and Jason Smith manhandle their men while the Rams' running backs waltzed through the enormous void left behind.
The Running Game
This one really works in tandem with the offensive line's outstanding play, as a running game can't flourish with no room to run.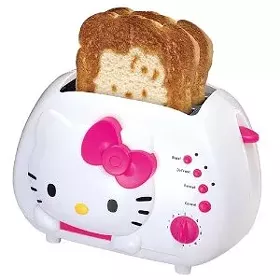 Yes, I realise this is a toaster and not a Toston, but I'm hoping someone will see this and take the hint. I have a birthday coming up, and an unhealthy love for Hello Kitty merchandise.
​All three of the Rams' backs they used in the game (Steven Jackson did not play), had impact moments. Cadillac Williams looked every bit the backup the Rams have been missing, and Jerious Norwood showed off the wheels. The guy who actually impressed me the most, though, was Keith Toston. The second year back out of Oklahoma State was absolutely explosive hitting the hole, and showed a burst in getting north and south that I'm not sure SJax himself could have bettered. Toston played against the second and third stringers, of course, but there's no mistaking his quickness. He also showed impressive patience and vision on his only scoring run, stutter-stepping as bodies cleared out in front of him.
The only concern I have is there doesn't seem to be a spot for Toston. I really don't know what kind of special teams skills he brings, and the Rams appear to be set on carrying a fullback, so I'm not sure I see how he stays on the roster. He's clearly fourth on the depth chart, and I just don't see the Rams carrying four running backs. It's a shame, because I really think there's something there, but I think Toston probably ends up elsewhere this season.
Danario Alexander
What more can really be said about DX? He misses most of the practices with some swelling in his knee, most of the fanbase is ready to write him off as never going to hold up, and what does he do? Just comes out in the first preseason game and looks light years better than any other wideout on the field.
Forget the catches Alexander made for a moment; the two most impressive plays he made on the night were probably the two balls he couldn't hold on to, both thrown (poorly), by A.J. Feeley. The diving near-touchdown catch would have been a spectacular grab if it had been thrown in the proper spot; hauling it in from low and away where Feeley stuck it might have qualified as a miracle. The other play, the pass Alexander high-pointed but couldn't hold onto with a defender's hand between him and the ball, was even better. Alexander had to adjust to the underthrown pass, turn back to the inside of the field, and grab the ball from in front of the defender's body. If that ball is thrown over his outside shoulder where it should have been, DX might very well have gone to the house with it. Even the diving play he was able to haul in was underthrown, but Alexander worked back to his quarterback and managed to pluck the pass off the turf.
I'm not trying to bash A.J. Feeley, here, who was clearly still trying to work out the bugs in his own game, but I would bet if Sam Bradford makes those throws all three are caught and two go for touchdowns.
Tight Ends
It makes sense, considering how much emphasis the Rams have put on the tight end position recently, but this had to be the second most impressive unit on the field behind the offensive line. Lance Kendricks was obviously the big story, with Sam Bradford targeting him more often than any other receiver, but he wasn't the only tight end to impress on the night.
My own personal cheeseball, Schuylar Oordt, didn't have a huge impact, but he did show well in blocking, at one point stacking up a pair of Colts defenders on a Keith Toston run in the third quarter. I'm really hoping to get to see more of the kid even after Mike Hoomanawanui comes back. Even more than Oordt, though, another undrafted free agent tight end by the name of Ben Guidugli made an impression, including throwing one vicious crackback block downfield that had the guys in the booth and the guys on the message boards alike buzzing. (Want to know how unheralded Guidugli is? He isn't even listed on the Rams' official website as being on the roster.) I know next to nothing about the kid, other than he came out of Cincinnati, but he played with energy and a giant chip on his shoulder, and you have to like that. Oh, yeah, and the Rams still have Fendi Onobun, the athletic monster project they drafted in the sixth round last year.
The issue at tight end is going to be much the same as it is at running back. The Rams have three tight ends in Hoomanawanui, Kendricks, and Billy Bajema who are locks for the roster. They might carry four tight ends, leaving one open spot, particularly if the player in question can fill that H-back sort of role as opposed to a pure tight end. Someone very intriguing is going to end up either on the practice squad or somewhere else.
Stocks Falling
Receivers Not Named Danario
While DX looked mighty impressive playing with the 2s, none of the other wideouts who took the field really stood out. Brandon Gibson has drawn raves for his work in camp so far, and I'm a big believer in him. Still, he ran the complete wrong route on one occasion, and didn't consistently separate from what I could see of him. Mike Sims-Walker is dinged up and didn't stand out on the field. Donnie Avery is hurt. Again. Austin Pettis looked nervous, which is understandable, but still doesn't win you any points. Danny Amendola looked like he always does, which is a plus, but Danny can't do it all again himself. The Rams need some of their wideouts to step up and take hold of the jobs available, and we haven't seen that yet.
Backup Quarterbacks
Okay, so you and I are both hoping Sam Bradford is, in fact, the second coming of Peyton Manning, and the Rams won't need a backup quarterback at any point in the near future. That would be fantastic. But facts is facts, and facts is you need backups for your quarterback. A.J. Feeley is supposed to be one of the better backups in the league, and he very well may be. On Saturday, though, he underthrew several balls (see the DX section above), and just generally looked out of sync with the players around him. Perhaps it was just because he didn't throw a single pass last year. I'm hoping that's the case, because otherwise I might be forced to say A.J. Feeley just didn't look very good out there.
Thaddeus Lewis didn't impress me either. He does have excellent athleticism, but small stature and a propensity for taking off too early, before giving the play a chance to develop, look likely to keep Lewis low on a depth chart for the foreseeable future. The one guy I was intrigued by was Taylor Potts, the rookie out of Texas Tech. He barely got in the game, but looked better throwing than either of the other two backup candidates, and he has a track record of spectacular passing in college.
We're all going to be crossing our fingers for Bradford to never get hurt. Even so, the Rams may want to look into some more effective type of play B just in case.
Cornerbacks
I'll admit it: the Rams' situation at corner has me concerned. It's a fact they do have two very, very good starters at the position, and that's good. It's also a fact, though, that I didn't see anyone on the field Saturday who jumped up and yelled out at me they wanted that third spot on the depth chart. Al Harris has the experience but is older than god, and Justin King got a nice word from Steve Spagnuolo in the paper but didn't show up on the field the way I was hoping.
The cornerback spot may be the one area the Rams are still dangerously thin. It's not surprising, of course; the team just hasn't had the time, the draft picks, or the free agent money to build depth at corner yet. They've prioritized other areas, simple as that. The loss of Jerome Murphy, though, could put a real strain on this part of the secondary, and god forbid either Bradley Fletcher or Ron Bartell misses substantial time.
Of all the spots on the team I see as potential stumbling blocks to the Rams' season, corner is the one I'm most concerned about at the moment. The team is apparently still exploring options to bring in veteran help, but in the end they may just have to rely on the players they already have around and try to compensate for the weakness.
And finally,
Stock Rising and Falling
Mardy Gilyard
I just don't know what to make of Mardy Gilyard. I was a huge fan of the Rams using a fourth-round pick on Gilyard, as he has the kind of elusiveness and speed the offense needs. On the other hand, he couldn't seem to pick up the playbook last season, limiting his ability to get on the field, and didn't do much with the few opportunities he did get.
On Saturday, we saw the good and the bad from Mardy. He ran a couple wrong routes, looked incredibly tentative at times trying to catch the ball while returning kicks, and just generally committed the same kinds of sins which kept him off the field last year. On the other hand, we also saw him turn a couple of very modest plays into substantial gains with nothing more than a shoulder fake and a quick move upfield. The speed was evident, as was the slipperiness, but until we can trust Mardy Gilyard to stay out of his own way, he will likely remain the same frustrating talent he's been to this point in his professional career.
In the end, it's hard to come up with too many serious negatives considering the way the Rams played. There's certainly room for improvement, but they looked every bit the hungry young team on the way up Saturday we all hope they really are. The next two games will tell us more about how the roster will ultimately look, but for now it's time to sit back, watch the game film a couple more times, and smile at the thought of what this team could be in 2011.