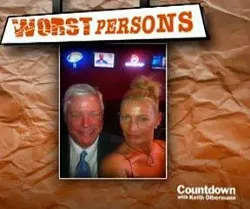 Missouri's Lt. Governor Peter Kinder made Keith Olbermann's
Worst Person's List
last night for his journeys to a St. Louis bar known for its "pantsless parties."
But the liberal television-show host got the source wrong yesterday when he credited the
Post-Dispatch
for breaking the story. Err wrong, Keith.
Yes, the
Post-Dispatch
did break the story on
Kinder spending thousands of dollars of taxpayer money on swank hotels
, but it's the
Riverfront Times
that
first published the photo
of Missouri's lieutenant governor posing with the
former nudy mag model at Verlin's
.
Now
Riverfront Times
and reporter/editor Sarah Fenske has even more scoop on Kinder's relationship with Tammy Chapman. The 1992 Penthouse Pet of the month says she was working at a Sauget strip club when Kinder -- then a state senator -- first
began harassing her
.
Update
: Olbermann realizes the errors of his ways and
tweets an apology
.