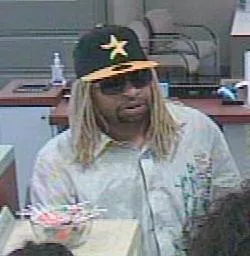 St. Louis police are seeking the public's help in identifying a man (right) believed to have robbed at least three area businesses. In each case the suspect has worn a wig, either a large Afro or gold dreadlocks.
The latest robbery occurred July 29 when he held up the Penn Station East Coast Subs at 3824 Hampton Avenue. A day earlier the same man is believed to be responsible for an unarmed robbery of the PNC Bank at 230 North Euclid. On July 16 a similar man conducted an armed robbery at the Family Dollar at 3411 South Jefferson. No one was hurt in any of the incidents.
The suspect is described as a black male in his 20s or 30s, approximately six feet tall with a medium build and a black goatee. In each of the robberies, he has worn a wig and sunglasses -- black sunglasses in one of the robberies and gold-rimmed sunglasses in the other two. When wearing the dreadlocked wig, the suspect has worn a baseball cap -- once a St. Louis Cardinals cap and once a Houston Astros cap.
Anyone with information is urged to contact CrimeStoppers at 1-866-371-TIPS. Callers can remain anonymous. Callers who provide information that leads to an arrest may be eligible for a cash reward of up to $1,000.